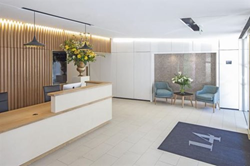 Plus -- LONDON!
London, United Kingdom (PRWEB) January 09, 2017
Turki Almadhi Ventures Inc., a private investment fund that focuses on startups and publicly traded companies, previously headquartered on Wall Street in New York, USA, is excited to announce its expansion to London, UK.
The London, UK office will manage all inquiries and investments around the world. It is centrally located in the city, and will hold office hours by appointment. The move to London was a strategic one, as it is a central hub for colleagues and potential investments to travel to for any type of board meeting, and any launches or releases.
"As much as I enjoy travelling, sometimes the 16hr flight time can add up. By cutting that in half, it makes things much more manageable – plus LONDON!" commented Mr. Turki Almadhi when asked what prompted the change.
In December, the #TAVIteam was present at TECHCRUNCH Disrupt London, and saw the potential that existed. It is relatively easy to travel throughout Europe from London, UK – where it seems that amazing ideas are plentiful.
London is quickly being considered the hub of innovation with the creation of Tech-only Cities, business development subsidies, and disruptive events that gain international acclaim. Turki Almadhi Ventures Inc. hopes to encourage this movement by supporting it and using London, UK as a reference point.
The Turki Almadhi Ventures Inc. New York Office will remain as a satellite office, which will host meetings quarterly by appointment only.
The Turki Almadhi Ventures Inc. fund is a privately funded corporation established in 2003 and that is based out of London, UK. For media and press inquiries please contact Elle Jacobs directly at +44 020 3289 1440 or through email at hello(at)turkialmadhi(dot)com. Please visit the website at http://www.turkialmadhi.com for more information.