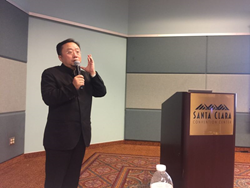 (PRWEB) January 09, 2017
Today, the explanation session of Guiyang block chain strategy and the global release conference of financial system based on standard digital currency was successfully held at the Santa Clara Convention Center in Silicon Valley. US Experts and representatives of different areas were present as honored guests, including Wu Bin, Deputy Chairman of the board of directors of Severn Star Group; Bill Barhydt, creator of Abra; Ed Felten, White House Chief Technology Officer and Princeton professor; Susan Athey, co-director of Digital Business and Economics Professor at Stanford Research Institute; Toni Lance Casserly TLC., Consultant on Bitcoin and block chain technology; and David A. Johnston, chairman of for Factom Foundation's board of directors. Mr. Wang Yuxiang, deputy mayor of Guiyang, Mr. Liu Wenxian from Guiyang Zhongchou Finance Exchange and Mr. Ye Qiang, Chairman of the board of directors of Puerbank, were present as the organizers and have contact with the guests present at the conference.
Mr. Ye Qiang made a specific all-English explanation of the global release of the financial system based on standard digital currency and the settlement of Puerbank block chain in the US. He showed that Puerbank Group, as the first presenter and advocate of the standard system, makes Puerbank black chain settled in the US based on the developing trend of global economy. This important move is an effective path to accelerating the circulation of global assets and promoting the development of economy. Mr. Ye, Ed Felten and Susan Athey have communicated concerns with the development of standard digital currency and reaching consensus. Ed Felten showed that, under the financial ecosystem of Puerbank block chain, block chain is effectively integrated with finance, which is essentially a pathway to pushing assets into high speed circulation and bound to be settled and applied in US or other countries. The standard digital currency mode is an inexorable trend for global development strategy, which will definitely capture international focus. Puerbank's global strategy are to be launched in the US and UK simultaneously on January 9th. For more details, watch the live conference on January 9th at https://www.puercoin.com/live_show.html.
Media Contact
Company Name: Shenzhen Puer Bank Tea Industry Co., Ltd.
Contact Person: Yufeng Wang
Email: 2257722693(at)qq(dot)com
Phone: +86 18948780828
Country: China
Website: http://www.puercoin.com