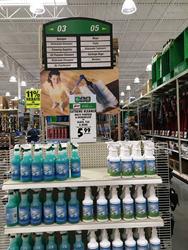 Eau Claire, Wisconsin (PRWEB) January 09, 2017
Extreme Energy Solutions, Inc. has reached yet another major milestone in its launch of Extreme Kleaner. The company's non-toxic biodegradable multi-purpose cleaner-degreaser will be made available in all of Menards 300 plus locations. Menards is the first corporate owned retailer chain to adopt Extreme Kleaner and offer it to its customers.
Menards has over 300 locations throughout 14 different states: Ohio, Michigan, Indiana, Illinois, Wisconsin, Minnesota, Missouri, Nebraska, Kansas, South Dakota, North Dakota, Wyoming, and Kentucky. Menards is a large home improvement retailer ranking third in the nation behind Home Depot and Lowes.
Menards is a privately held company, founded in 1960 by John Menard, Jr., and specializes in home improvement, home goods, farm and ranch supplies, and building materials. Menards operates four distribution warehouses which service a string of locations, and maintains its' corporate campus in Eau Claire, Wisconsin. The retailer that claims, "Save Big Money at Menards" has remained true to its calling by offering Extreme Kleaner at a discounted rate to its customers.
Extreme Energy Solutions has launched a marketing campaign to help promote Extreme Kleaner, including a series of print and media advertisements, social media campaigns, motorsports marketing campaigns, and new video content highlighting the two available formulas: Extreme Kleaner Multi-Purpose Cleaner-Degreaser and Glass, Tile and More formula. Menards now has the product listed on its website, offering the product direct to customers over the internet: Order Extreme Kleaner from Menards here.
"We are very grateful and appreciative of the opportunity to partner with Menards. This was one of our long term goals for our company and for Extreme Kleaner, and we have found the Menards team to be very helpful and knowledgeable," commented Samuel K. Burlum, CEO and President of Extreme Energy Solutions, Inc., the company offering Extreme Kleaner.
"For 2017, we are in the process of organizing another Extreme Kleaner Tour of Stores, which will now include stops and promotional awareness at selected Menards locations," added Burlum.
The Extreme Energy Solutions Extreme Kleaner Sales and Promotions Team will be dispatched over the road throughout the Midwest to deliver the message of how important it is to support local family owned businesses, while promoting new environmentally friendly and sustainable products that are "Made in the USA".
Last year's Extreme Kleaner Tour of Stores brought the Extreme Kleaner team to over fifty (50) independently owned retailer locations throughout Wisconsin, Minnesota, North Dakota, South Dakota, Montana, Wyoming, Colorado, Iowa, Nebraska, Kansas, Oklahoma, and Illinois, including brief appearances in Oregon before heading back to the East Coast. With over 300 Menards locations, Extreme Energy Solutions will have to expand its staff to accommodate a larger version of the 2016 Tour of Stores Campaign in the New Year.
Extreme Kleaner is a non-toxic biodegradable cleaner-degreaser manufactured in the United States, which originates from the Garden State, where it is packaged for consumers around the nation. Extreme Kleaner was first offered online, advertised and sold on Amazon. In 2013, local retailers began to offer the green cleaner in the Northeast. By year end of 2015, Extreme Kleaner was made available in other hardware chains, auto parts stores, and food stores coast to coast at selected locations in various states. 2016 brought many new opportunities for the product to be made available to more consumers including the launch of Extreme Kleaner in both a number of co-ops and larger big box retailers. 2017 carries the momentum by opening up with the launch of Extreme Kleaner in Menards.
Extreme Kleaner is now available in a number of selected independently owned retailer locations nationwide, including many hardware stores, auto parts stores, grocery markets, and variety stores. Brand stores that now offer Extreme Kleaner include: Hardware Hank's; Trustworthy Hardware, Golden Rule Lumber, Ranch and Pet Supply, other stores affiliated with United Hardware, selected NAPA Auto Parts, selected Ace Hardware stores, selected True Value Hardware stores, stores affiliated with C&S Wholesale Grocers, and now Menards.
Extreme Kleaner has a heavy following of commercial clients that purchase Extreme Kleaner direct from the company, including Arrow Fastener, ETI, and TUC Management.
A portion of every sale of Extreme Kleaner is dedicated toward assisting local and/or regional causes. Former causes which received the benefit of this initiative include Project Help, a cause aimed at helping to eradicate Veteran Homelessness; STEM Education, the performing arts, and non-profit educational forums for environmental and economic sustainability. The product's parent company, Extreme Energy Solutions has also helped sponsor local 5k runs and many other beneficial causes.
Extreme Kleaner is also the proud sponsor of the #92 sportsman modified race car and veteran driver Tommy Vigh Jr. Extreme Kleaner has also made major inroads with the racing community, where many racing teams in the Northeast prefer Extreme Kleaner to deal with caked on dirt and grime after hard nights of door to door competition.
Extreme Kleaner has been the focus of many press write-ups and media publications including, but not limited to, being spotlighted in Natural Awakenings Magazine, featured on Today in America, with Terry Bradshaw and on Central Valley Talk in California. Extreme Kleaner representatives have been seen at commercial/wholesale buying markets around the country related to hardware chain co-ops.
Extreme Kleaner has recently launched its new website, http://extremekleaner.com/where-to-buy/ which provides all of the locations of the partnered retailers which now offer this product.