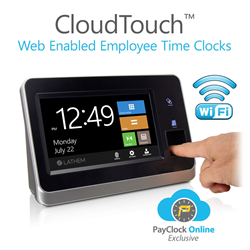 "CloudTouch is our most advanced time clock yet," said Lance Whipple, VP Sales & Marketing at Lathem.
Atlanta, GA (PRWEB) January 09, 2017
Workforce management solutions company Lathem has launched CloudTouch™, its most advanced web-enabled time clock system that makes it easier than ever to manage employee time and attendance.
The CloudTouch Series currently includes two employee time clock models: the Model CT70 Proximity Badge Reader and Model CT72 Biometric Fingerprint & Proximity Badge Reader. Employees can easily record their time with the touch of a finger and supervisors can easily manage daily timekeeping.
The clocks have built-in WiFi, so data is sent in real time through the web to Lathem's PayClock Online cloud-based time and attendance software. Customer's don't have to worry if their web connectivity goes down, CloudTouch time clocks automatically switch to offline mode during an Internet disruption letting employees clock-in/out and use other functions until the web becomes available again.
CloudTouch has a 7" LCD touch screen interface that allows employees to clock in and out, check their time totals, and change departments that automatically set the proper hourly pay rate. Employees are empowered to view paid time off, benefit time balances, and overtime totals. Managers can add employees and edit time punches directly from the clock and they can quickly see who is clocked-in and clocked-out.
Businesses have the flexibility to choose which employees and supervisors use a PIN number, badge or biometric fingerprint ID to clock in and out. The fingerprint enrollment wizard makes it easy for administrators to set up and enroll their employee fingerprints in less than 30 seconds.
"CloudTouch is our most advanced time clock yet," said Lance Whipple, VP Sales & Marketing at Lathem. "With new functionality and enhanced features, the fingerprint technology makes it even easier for employees and supervisors to better manage time and attendance. We are excited to introduce this clock that reduces time, saves money and streamlines operations."
CloudTouch time clocks are designed to work exclusively with Lathem's PayClock® Online employee time & attendance software offering businesses the ability to manage employee time and attendance from any location and at any time. Companies can capture, manage and securely integrate their workforce time and attendance data into payroll systems such as ADP, QuickBooks, Paychex, etc., when it is convenient and from anywhere via the web.
For a limited time, Lathem is offering special discount savings for customers to trade up to the new CT72 fingerprint reader time clock and PayClock Online software. Learn more.
About PayClock Online
PayClock Online is a cloud-based solution that enables businesses to manage employee time and attendance anytime, anywhere with an Internet connection, saving time and money. This web-based employee timekeeping system allows managers to quickly process payroll on their own time, when it is most convenient for them. Mobile functionality through the PayClock app lets managers track employees' hours or administer payroll from their own mobile devices. Employees record time from their computers, smartphones, and even Lathem time clocks, enabling them to view their own time records and paid time off information without supervisor assistance. PayClock Online easily integrates with popular payroll software systems like QuickBooks, Paychex, ADP and more.
About Lathem
Headquartered in Atlanta, Georgia, Lathem is the leading provider of durable and affordable timekeeping products for business. Since 1919, Lathem remains a family-owned and operated US manufacturer. Organizations worldwide use a Lathem solution every day to help manage their business, including the cloud-based PayClock Online time and attendance system and the PayClock mobile app.