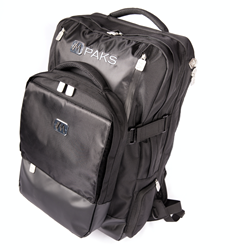 We honestly and truly want each and every user to DO MORE; to get an amazingly versatile and high quality bag for themselves as well as give back to help others throughout the world.
Colorado Springs, CO (PRWEB) January 09, 2017
M-PAKS, the world's most versatile bag designed for travel, adventure, work, school, they gym, and more, is live on Kickstarter and raising funds to bring the project to life.
M-PAK was created with a mission to make the ultimate bag enabling users to accomplish more no matter where life takes them. The M-PAK is the last bag anyone will ever need and can seamlessly move from the workplace to a camping site without skipping a beat.
"My brother and Co-Founder of M-PAKS was a poor college student several years ago who wanted to get more from items he used at school. In addition to carrying his books, he also used his backpack as a pad on the chair where he studied in the library for more comfortable seating," says Co-Founder Kirk Gillespie on the inspiration behind the project. "Years later he and I began developing this idea further on different uses/features that can be included in a backpack so that each user can do more than just carry stuff. Basically, we wanted to provide a way for people to do MORE with a backpack they would use anyway."
M-PAKS was created using only the finest and highest quality materials available including 1680 Ballistic Nylon, Ripstop lining, metal zippers, all backed with a lifetime warranty. In addition, with M-PAKS, not only will users get the first and only backpack that allows them to have an internal frame or not (for heavy or lightweight packing) but also folds out into a fully functional mobile chair so users will always have a place to sit.
In addition, funds raised through the crowdfunding campaign will go towards helping the company develop a smaller version to give away to kids around the world as a mobile desk where they now currently sit on the ground. This revolutionary innovation helps schools save money purchasing desks or benches and tables as well as helping to inspire kids to pursue their education and dreams.
"High quality bags are built mainly for style; to be seen by others and viewed as important but offer nothing really special or unique on how it is used. At M-PAKS we believe high quality products should not simply look nice but be extremely functional as well. M-PAKS is the most versatile high quality bag on the market by allowing each user to customize how they use their M-PAKS in many more ways than one," adds Gillespie. "We honestly and truly want each and every user to DO MORE; to get an amazingly versatile and high quality bag for themselves as well as give back to help others throughout the world."
M-PAKS is currently live and available to support on Kickstarter: http://kck.st/2j9PB2H
About M-PAKS
M-PAKS develops, designs and produces products that are built to last, extremely functional and provide a way to give back and help others in need. Founded in 2015, M-PAKS has already developed the only travel backpack with a removable internal frame (for heavy or lightweight packing) which also becomes a comfortable mobile chair.  Do MORE with M-PAKS. 
For more information on M-PAKS please visit http://www.m-paks.com/
###