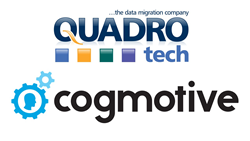 Zug, Switzerland (PRWEB) January 09, 2017
The Microsoft 'Most Valuable Professional', MVP Award is credited to individuals who take an active role in sharing their knowledge amongst the Microsoft community, and encouraging, or guiding others to develop their own technical understanding and capabilities. Byrne received this award in recognition of his achievements and support for Microsoft's cloud-based platform, Office 365.
Byrne's activity within the Microsoft community includes regularly contributing to the TechNet Script Center and forums, speaking at IT DevConnections 2016, Ignite 2015, and creating the popular Cogmotive blog, filled with hands-on guides, technical advice, and Office 365 news. 'I am so honoured to receive this award' said Byrne, 'Having spent the past few years with so many talented, knowledgeable MVPs, I'm humbled to be a part of this fantastic programme.'
Byrne is the first recipient of this award throughout the QUADROtech group, 'It is an invaluable achievement, and a fantastic opportunity to get further involved in the Microsoft community, learn more, and continue to help people whenever I can.'
Alan Byrne is the SVP of Cloud Services for QUADROtech group and co-founder of Cogmotive, a leading global provider of enterprise level reporting and analytics applications for Office 365. Founded in 2012, Cogmotive's reporting solutions are now used to manage over 4 million Microsoft Office 365 seats worldwide. The solutions help customers gain the business insight to control and optimise their Office 365 environment on a global scale. Cogmotive was acquired by QUADROtech group in November 2016.
-End-
Cogmotive
Cogmotive is the market-leading provider of Office 365 reporting, analytics and auditing tools. Cogmotive offers a suite of over 100 reports covering all major Office 365 services including Exchange Online, Skype for Business, SharePoint Online, and OneDrive for Business, helping customers gain the business insight to control their Office 365 environment on a global scale.
Cogmotive is part of the QUADROtech Group.
By leveraging industry-leading technology from both QUADROtech and Cogmotive, organisations are able to achieve a fast, compliant Office 365 migration, that delivers visible, measurable end-to-end success, as well as ongoing insight using powerful, detailed reporting and analytics.
About QUADROtech
QUADROtech (http://quadro.tech) is a hybrid ISV/MSP that helps customers to optimize their operations and empower their employees to collaborate and be productive anywhere on any device by bringing ALL their email data (live mail, email archives, PST files, and public folders) home to Microsoft Office 365 and Azure.
QUADROtech's staff of industry experts and its worldwide network of partners work in collaboration with Microsoft account teams and the Microsoft FastTrack Centers in enterprise and midmarket accounts globally to overcome barriers to cloud adoption and drive deep and rapid active usage of Office 365 and Azure.
QUADROtech is a trademark of QUADROtech Solutions AG. All other trademarks are the property of their respective owners.