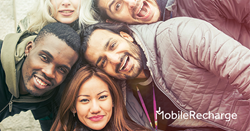 The process was easy and straight-forward. . . It is clear, MobileRecharge takes security matters very seriously; it [helped] me recharge multiple numbers. A secure and prompt service. (Mike Fischer on Trustpilot)
Atlanta, Georgia (PRWEB) January 09, 2017
MobileRecharge.com, the platform dedicated to expats and travellers who top up mobiles online, issued a 2016 report centralising the most generous ethnic groups on MobileRecharge.com. The report is comprised of a list of expat groups who regularly send mobile credit to their relatives or friends back home using this website. The report took into consideration hundreds of thousands of expats worldwide, most of them living in the USA, Canada, Australia, New Zealand, and UK, who use MobileRecharge.com on regular basis.
The report data included 150 nationalities and hundreds of thousands of expats worldwide, who send mobile credit in seconds to their friends or families abroad, on MobileRecharge.com. Top of the list, we find Dominicans and Nepalese, Cubans, Jamaicans, Mexicans and Americans.
Although most expatriates send credits abroad twice a month on average, there are some ethnic groups who are more supportive. In 2016, Dominicans, for example, were more generous with their families back home than Indians or Mexicans, according to the report on MobileRecharge.com. Indians were more generous than Haitians, yet Nepalese were among the most generous. They took the second position in top 20 most generous expats in 2016.
The list is public, so here are the most generous groups identified in 2016 according to the use of service on MobileRecharge.com:
1. Dominicans
2. Nepalese
3. Cubans
4. Jamaicans
5. Mexicans
6. Americans
7. Ghanaians
8. Hondurans
9. Salvadorans
10. Nigerians
11. Indians
12. Spanish
13. Guatemalans
14. Haitian
15. Colombians
16. Nicaraguans
17. Tunisians
18. Costa Ricans
19. Afghanis
20. Filipinos
The list is comprised of people using MobileRecharge.com, and, surprisingly, Americans are on the list as one of the most generous nations since they use the website to top up family members' phones online, trying to avoid the hassle and costs of offline shopping.
MobileRecharge.com's customers are all generous people because most of those using the service want to add credit to a mobile abroad or someone in their country who deserves some help. The team managing MobileRecharge.com also set up World Top Up Day to celebrate top up givers worldwide and their generosity. World Top Up Day takes place every year on November 10 in the name of long-distance kindness.
Why these differences exist is not clear, but here are a few hypotheses. These nations may be indeed more generous than others due to the local education and the stronger sense of community they grow up in, directly connected to social economic factors, or they are more empathic by nature. There is another reason though… These are the nations with the highest number of immigrants abroad and thus there is a real context to manifest generosity in a long-distance relationship by sending mobile credit among others.
MobileRecharge.com, who conducted this in-house study, is known for several advantages on review platforms like Trustpilot.com:

No contract is needed to use the service
The top up service is built to be flexible
There are daily promotions
Facebook giveaways are something common: https://www.facebook.com/MobileRecharge.Fan/
Holiday offers are inevitable
Immediate customer support 24/7 is offered in Spanish, English and other international languages
All transactions are available in one's account at any time
There are no hidden fees
The services applies the lowest processing fee on the global market
Safety of transaction is guaranteed by the certifications on the website: Verified & Secured, Trustwave, etc.
Transparency of communication with customers is part of their policy; the service is certified by BBB and Truste
Video tutorials are available on YouTube and in one's account to support independent mobile top ups.
MobileRecharge.com is a website dedicated to expats worldwide, travellers or professionals who live abroad temporarily, or independent mobile top uppers. MobileRecharge.com is also the initiator of the first World Top Up Day in history, dedicated to top up givers worldwide as a generous social category. The website is a brand of KeepCalling, with more than 10 years of experience on the global market. The mother company is a telecommunications business registered in 2002 in the USA, listed by Inc 5000 as one of the fastest growing companies in the USA for 5 consecutive years. Presently, KeepCalling provides its services to hundreds of thousands of consumers, with a focus on customer satisfaction.