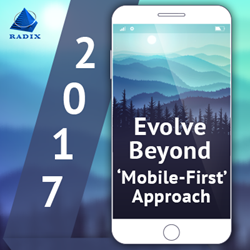 The time has arrived, when we focus on simplifying our process and gaining competitive advantages by improvising workforce productivity to generate better ROI
Ahmedabad, India (PRWEB) January 10, 2017
The world is moving rapidly towards complete mobile workforce and BYOD, a trend that was obscure just a few years ago, is now becoming a reality. Radixweb had anticipated this technological drift in the market long back and envisioned to help enterprises stay highly productive with its service-based areas of growth including Enterprise Mobility Management (EMM), Cloud Computing, Bespoke Software Solutions and more in 2017.
Companies across the globe are imbibing "mobile-first" approach to meet the rising expectations to serve its customers well and make its employees do so without any technological hiccups breaking the pre-defined boundaries of time, place, and devices.
As per a report, enterprise mobility market size is estimated to grow from USD 35.10 billion in 2016 to USD 73.30 billion in 2021. (Source: BYOD & Enterprise Mobility Market – Global Forecast to 2021 by Markets and Markets)
Customization is Key to Enterprise Mobility – Looking at the mobile revolution, 'mobile first' is a must have a strategy. However, as mobile is very disruptive by nature, no single enterprise mobility portfolio fulfills the complete operating requirements of any organization.
Custom Software Development being the core competency of Radixweb, and the well-heeled experience gained through successfully delivered custom cloud and enterprise mobile applications allow Radixweb to offer solutions that meet the challenging market needs and helps enterprises to embrace technology trend while increasing business value.
"To successfully transform the organization with Mobile strategy, one need to go beyond just having a mobile application in place. It is the tactical approach to meet the need for an organization to stay connected 24*7 across various devices and make mobility a journey of increasing value. It is important to look for a technology partner that not only provides a customized service but enhances their trust in modern technology systems", said Pratik Mistry, Sr. Business Head, Radixweb.
"Radix has been an outstanding partner for our software project and truly shares our vision for a visually appealing and easy-to-use application," says Jana L. Bauer, MIS Director at Collection Agency, USA.
"We have always believed in the technological prowess of being "mobile" and "Staying Connected." Since Enterprise mobility is a non-negotiable technology trend, Radixweb entices to provide applications which not only deliver great experience but also work seamlessly as per business needs to meet and even exceed the expectations" says Dharmesh Acharya, COO, Radixweb.
"What we look around today is that business owners feel uncomfortable to use traditional systems and are skeptical of moving to advanced platforms and complex tools for businesses. Simpler, secure and easy-to-use tools are high in demand. Business owners look for tools that contain a fine balance of security, productivity, and healthy work culture. The core requirement is Enterprise mobility services should be a perfect amalgamation of these three important features", quips Maitray Gadhvi, Senior BDM, Radixweb.
Elaborating further, Maitray adds, "In the year that has gone by, enterprises understood that BYOD could not be ignored! This year we are looking to help businesses gain long-term growth and have smooth mobility journey with our tailored offerings like Mobility Strategy, Mobile Enterprise App Development, Migration and Enterprise Mobile & Cloud Enablement."
With technology evolving at a faster rate than ever witnessed, Radixweb thrives on being a technology partner that empowers and manages enterprise mobility in an agile and secure way!
About Radixweb:
Established in 2000, Radixweb is a leading software product development and IT Outsourcing services provider. The company delivers a complete range of IT services and enterprise-class solutions to clients from SMEs to fortune 500 companies across the globe. Radixweb key Service offerings include Bespoke Software Development, Embedded Software Development, Software Product Development, Web & Desktop Application Development, Application Performance Optimization and more.
Due to consistent and reliable service delivery, the company earned credentials like Microsoft Gold Partner, Top Enterprise Software Development firm 2016 & Top .Net Developers 2016 by Clutch, Kentico Bronze Partner, nopCommerce Partner, ISO Certification for quality processes and Adobe Solutions Partner. For details, please visit http://simplified-it-outsourcing.com