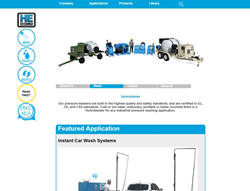 Hydro Engineering, Inc. has redesigned their website for the modern age.
Salt Lake City, Utah (PRWEB) January 24, 2017
After doing quite a bit of investigation into how users interact with Hydroblaster.com, Hydro Engineering, Inc. has redesigned their website for the modern age. Extensive user feedback incorporated with real-time analytics has given Hydro the opportunity to rehash and rethink the way people interact with the website and find the information needed.
The cleaner and less cluttered User Interface (UI) makes navigating the website all the better for the user. Instead of a hard line exposure to Hydro's branding, users have the opportunity to organically explore and become familiar with Hydro and its services without feeling overwhelmed by too much information.
Speaking of information. Hydro's approach to delivering content is now multi-faceted. User's have more refined choice for getting information by either seeking out products directly, based on their need to Wash - Collect - Recycle. Or better yet, to see what similar users have under the new Applications section.
Hydro has over 35 years of experience helping a wide range of users and their unique challenges to washing equipment and vehicles, collecting wash and waste water, and finally, recycling and filtering water for continual use or clean discharge. Those stories and case studies have been both organized and categorized so the user can discover the variety of challenges and successes for each industry or market.
Each application's case study features three main components: An image gallery highlighting unique challenges and outcomes for the application, a summary of the case study, and lastly, a link for each product used.
Hydro Engineering product pages have been uniformly formatted for easier consumption. Each has their own unique links for product specifications as well as for product brochures. Also included is a brief overview of the product, its features, and all options that can be added to the unit.
When the user requires more information or would like to receive a quote for Hydro products and services, a new contextual "Information Request" button allows the user to submit a request based on the page they are currently viewing. This allows for greater control on the users end while simultaneously eliminating the need to answer an endless series of questions.
Come visit the experts today at: https:http://www.hydroblaster.com