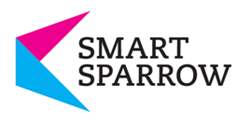 San Francisco, CA (PRWEB) January 09, 2017
Smart Sparrow, a pioneer in adaptive learning and learning design, was named a gold medal winner for Best Advance in Content Authoring Technology in the Brandon Hall Group's 2016 Excellence in Technology Awards. The award recognizes Smart Sparrow's work with Australia and New Zealand Banking Group Ltd. (ANZ) to create a personalized online learning module focused on operational risk that is now used by 3,000 employees in 30 countries.
"It is a tremendous honor to be recognized by the Brandon Hall Group for our work to design smart and engaging learning experiences for corporate leaders," said Dror Ben-Naim, Ph.D, founder and CEO of Smart Sparrow. "We are grateful to collaborate with ANZ, who offered terrific insight into learning needs of today's businesses."
Working with Smart Sparrow's Learning Design Studio, ANZ developed an interactive learning module to ensure employees understand the changing laws and regulations governing the financial services industry. The studio team built the training module as a "space mission" to identify risks in the "ANZ Risk Universe." The gamified module creates an engaging and motivating learning experience for ANZ's employees, who progress through the course on unique learning pathways depending on their business unit. The Smart Sparrow platform also enables ANZ learning specialists to tailor the experience for different business units, geographies and learning styles. Learner analytics surfaced through the platform allows ANZ to better support at-risk or unengaged learners.
"Being able to look at the data and measure performance at the organization, team, and individual level allows us to improve training, identify areas of weakness, and arrange for additional learning and coaching," said Siva Navaratnam, Head of Operational Risk at ANZ Banking Group. "Working with the Smart Sparrow platform allows us to continually improve our module, based on real time data, and determine how to create the best learning experience possible for our employees."
Earlier this year, ANZ's Operational Risk Module was awarded 2nd place for the "Best eLearning Design: Online" category in the 2016 LearnX Impact Awards and 2nd place for the "Best Use of Technology for Learning Category" at the Australian Institute of Training and Development (AITD) 2017 Excellence Awards for its innovative learning design and pedagogical approach for a fully online delivery.
The Brandon Hall Excellence in Technology Awards recognize the best organizations throughout the world that have successfully developed and deployed programs, strategies, modalities, processes, systems, and tools that have achieved measurable results. The awards are presented by the Brandon Hall Group, a human capital management research and advisory firm with more than 10,000 clients globally that provides insights around key performance areas, including Learning and Development, Talent Management, Leadership Development, Talent Acquisition, and Workforce Management.
The 2016 Excellence Award Winners will be honored at the Human Capital Management Excellence Conference 2017 Ceremony and Gala at the PGA National Resort and Spa in Palm Beach Gardens, Fla., on Jan. 26, 2017. For more information, visit the website here.
About Smart Sparrow
Smart Sparrow is a learning design platform for next-generation courseware. It allows any educator to create amazingly engaging and adaptive learning experiences and then continuously improve them using learner analytics. Students are better supported and more motivated to succeed. Smart Sparrow believes in designing tools that support great teaching, and put educators first to unlock the potential of adaptive learning. http://www.smartsparrow.com