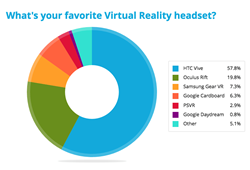 sketchfab.com is uniquely positioned to be able to comment on the state of VR as we begin 2017.
New York, NY (PRWEB) January 10, 2017
With a community of over 700,000 3D artists, 3D scanning aficionados, and other 3D contributors; more than 5 Million unique monthly visitors; and over a million scenes all viewable from a browser in VR using WebVR, sketchfab.com is uniquely positioned to be able to comment on the state of VR as we begin 2017.
Sketchfab has therefore released its first comprehensive report covering VR ownership and usage in Q1 2017. Sketchfab plans to continue to monitor and survey VR usage and report quarterly moving forward:
The report (prepared by Guillermo Sainz & Phillip Alexeev) – a culmination of findings culled from usage data directly from the Sketchfab platform and a survey issued to the Sketchfab community – unveils a number of interesting VR facts and figures, each of which can be shared socially. Among the findings:
On average, Sketchfab visitors spend 8X more time exploring content in VR than they do interacting with it in browser-based 3D rendering.
Over 60% of respondents currently create 3D content with close to 25% of those respondents having used a VR headset for reference during the creation process.
While the HTC Vive continues to dominate as the most liked (and most desirable) headset among survey respondents, over 75% of VR consumption on the Sketchfab platform comes from mobile devices using mobile headsets such as Google Cardboard, Daydream, and the Samsung Gear VR.
For greater breakdown on these findings and many more, visit https://sketchfab.com/trends
About Sketchfab
With a community of over half a million creators contributing over a million models, we are the world's largest platform to publish, share and discover 3D content online and in VR.
Our technology integrates with every major 3D creation tool and publishing platform and supports almost every 3D format directly through our site or using one of our official exporters. Using our universal 3D & Virtual Reality player, your creations can be embedded on any web page and every major network including Facebook, Twitter, Tumblr, LinkedIn, WordPress, Bēhance, DeviantArt and Kickstarter.
Sketchfab is proud to be the official 3D publishing partner of Adobe Photoshop, Facebook, Twitter, Microsoft Hololens, Intel RealSense and more.