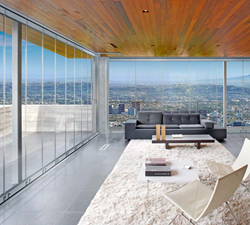 Being in Orlando, discussing weather resistance and extreme weather is all too relevant, so we're eager to debut our newest weather resistant products in the Southeast. - NanaWall Systems CEO Ebrahim Nana
ORLANDO, FL (PRWEB) January 10, 2017
NanaWall Systems, the pioneer of opening glass wall systems, will be showcasing two new weather resistant product lines at the International Builders' Show (IBS) in Orlando, Florida, Jan. 10-12 in booth #W3990. The company will debut the NanaWall ClimaCLEAR™—the industry's only frameless all-glass individual panel sliding system specifically engineered for transparent weather protection. Also on display will be the NanaWall SL73—an aluminum-framed folding glass wall system specifically designed and engineered to perform in hurricane climates.
"NanaWall Systems is constantly redefining the industry of opening glass wall systems to provide builders with innovative solutions for their clients," stated NanaWall Systems CEO Ebrahim Nana. "Being in Orlando, discussing weather resistance and extreme weather is all too relevant, so we're eager to debut our newest weather resistant products in the Southeast."
TWEET THIS: At #IBS2017 booth W3990, @nanawall debuts industry's first frameless all-glass panels for transparent #weather protection #ClimaClear. http://bit.ly/2iuDxdl
See below for additional information on products in the booth:
NanaWall ClimaCLEAR - ClimaCLEAR is the only frameless all-glass individual panel sliding system specifically engineered for transparent weather protection while providing maximum views and unobstructed sightlines. The weather resistance of the panels comes from a combination of several technical attributes such as the patent-pending Panel Interlocks and the transparent weather seals between the panels that seal the wall against wind-driven rain and reduce air infiltration.
NanaWall SL73 - The NanaWall SL73 features reinforced structural posts and impact rated laminated glass provide unparalleled strength, while the Secure Locking System and specialized seals and panel design provide superior wind and rain resistance. One of the industry's toughest folding systems, the SL73 has passed the most rigorous testing designed for windows and doors to be used in hurricane zones, becoming Miami-Dade AAMA hurricane approved.
NanaWall Shades - Also on display at IBS will be the new and proprietary NanaWall Shades. NanaWall Systems is the first and only company in the industry to offer an integrated shade solution for opening glass wall systems. Designed specifically for NanaWall, the NanaWall Shades are custom fitted to each panel and provide ultimate control of sun exposure and homeowner privacy, without losing the aesthetic of the NanaWall.
For more information about NanaWall Systems and its products, please visit nanawall.com.