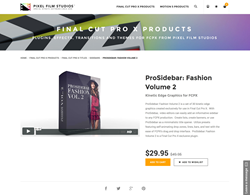 ProSidebar Fashion Volume 2 is a set of 30 kinetic edge graphics that allow users to add an informative sidebars to their video projects with complete ease
Aliso Viejo, California (PRWEB) January 11, 2017
"ProSidebar Fashion Volume 2 is a set of 30 kinetic edge graphics that allow users to add informative sidebars to their video projects with complete ease," said Christina Austin - CEO of Pixel Film Studios.
ProSidebar includes 30 self-animating titles with fashion stylization. Simply drag a title preset above media in the FCPX timeline and ProSidebar to instantly add an edgy & clean sidebar graphic to any video production. Choose from presets clean text layouts, to title layers with drop zones and text-masked styles.
ProSidebar includes 30 presets with various elements that can be easily adjusted in Final Cut Pro X. Editors can change any text and stylize any shape elements in each preset. Pixel Film Studios makes titles functional and easy-to-use for FCPX editors.
ProSidebar includes sidebar effects that can dramatically change the look of any footage. Users can add blur and tint effects as well as the media offset. Add a minimalistic graphic to youtube videos or utilize drop zone presets to add high fashion photos to a promotional video. The possibilities are endless with ProSidebar: Fashion.
ProSidebar Fashion Volume 2 makes creating beautiful lists easy with customizable node presets. Pre-animated text makes displaying information easy. Simply write out the information and select any bullet point in Final Cut Pro X.
Established in 2006, Aliso Viejo, California-based Pixel Film Studios is an innovative developer of visual effects tools for the post-production and broadcast community. Their products are integrated with popular non-linear editing and compositing products from Apple FCPX. Apple, the Apple logo, Mac OS X, and Macintosh are registered trademarks of Apple Inc. in the U.S. and/or other countries. All other trademarks and trade names are the property of their respective owners.