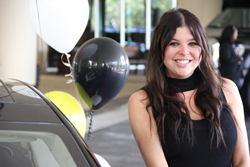 "I could not be more excited. This is truly one of the greatest moments of my life." - Sales Agent Courtney Kurth
Orlando, FL. (PRWEB) January 11, 2017
On Wednesday, January 11, Courtney Kurth, a sales agent working with Challenger Homes in Colorado, was announced as the grand-prize winner of New Home Star's intensive, nine-month sales and marketing contest. The finalists in the Olympic-inspired "NHS Summer Games" converged on Orlando in conjunction with the 2017 International Builders' Show. Here, the sales management firm awarded Kurth with a brand new Tesla Model S.
After competing against 470 sales professionals in tasks that tested industry knowledge, New Home Star executives hand-picked the highest-producing agents. The top three professionals then completed a final round which included "selling" Founder David Rice their product using the firm's acclaimed training tools and processes.
"It's only fitting that we held this ceremony in alignment with IBS," says Rice. "Our sales professionals underwent rigorous challenges that tested their ability to generate traffic, communicate their product's value, and engage well with customers and builder partners. It was a joy to reward Kurth for her exceptional performance."
The new Tesla driver feels incredibly honored to have been chosen as New Home Star's champion. "I could not be more excited," Kurth says. "This is truly one of the greatest moments of my life. I've worked so hard and really wanted to win. I still can't believe it!"
To learn more about the "NHS Summer Games" initiative, click here. For further inquiries, please contact info(at)newhomestar(dot)com or call 800-730-6170.
About New Home Star
New Home Star is a national real estate sales management firm serving homebuilders and developers across North America. They recruit, select and develop sales teams with a full-time focus on new home sales, and partner with large, midsize and small-scale homebuilders in the U.S. and Canada. With a network of local sales divisions from coast to coast, New Home Star delivers sales solutions for businesses with a national perspective and a local presence. Their business goal is simple: To Sell More Homes, More Profitably™. For the latest updates in new home sales, follow @newhomestar.