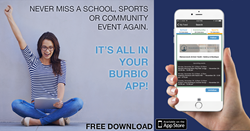 "Burbio's live streaming and personalization make your calendar smarter" says Burbio Co-founder Julie Roche. "Everything moves so much more quickly today and our calendars need to as well."
Pelham, NY (PRWEB) January 11, 2017
Burbio.com, a calendar platform that has expanded to over 140 communities across New York, Connecticut, New Jersey, Pennsylvania, and Massachusetts today announced the launch of an iOS App available in the App store. Burbio.com allows residents to create a personalized hyperlocal calendar feed, sync with their personal calendar and receive update notifications in real time.
"Burbio solves local communication problems by automating the highly-manual process of keeping track of school and community events to make it simple and easy," said Julie Roche, Burbio co-founder. "Burbio brings all of this into the digital age by delivering this public information to users in a personalized way."
Burbio.com compiles comprehensive local event information through automation and calendar publishing tools. Through location-based discovery, users create a personalized calendar feed from local events in a few easy clicks, sync with their personal digital calendars and are notified when those events change.
Roche, a mother of four and resident of Pelham, NY, conceived of Burbio.com after being exasperated by the antiquated way in which she learned about things going on locally – like driving by a sign posted at town hall. "It seemed contradictory that it was easier to book an international flight than it was to find out if a school event changed," said Roche. "It's great to be able to apply technology to make things easier for everyone."
Over 10,000 school, community, library and government calendars currently live stream through Burbio.com. Group organizers can also post their own calendars, while users share events and content from the service on social media. In addition to personalized iOS and web applications, data from Burbio has been adopted by over 40 governments and libraries to create digital "community calendars" that aggregate the most important events in a town.
"Burbio's live streaming and personalization make your calendar smarter," added Roche. "Everything moves so much more quickly today and our calendars need to as well."