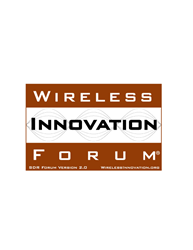 Washington, DC (PRWEB) January 12, 2017
The Wireless Innovation Forum, a non-profit international industry association dedicated to driving the future of radio communications and systems worldwide, today announced election by its membership of five new Board of Directors members: Kurt Schaubach of Federated Wireless, Louise Lamont of Communications Research Center, Glenn Laxdal of Ericsson, Paul Anuszkiewicz of CTIA and Mark Gibson of Comsearch, a CommScope company.
Paul Anuszkiewicz is CTIA's Vice President for Spectrum Planning. He is responsible for technology and technical matters concerning spectrum advocacy, spectrum allocation for the network evolution to 5G and other technical areas to aid CTIA's members and as a resource to policy makers. He has over 28 years of technology planning, network engineering and operational experience. Prior to CTIA, he was CEO of Caten McGuire, a wireless technology consulting firm responsible for developing technology strategy, implementing operational change, and sourcing billions in infrastructure and devices, for a wide variety of U.S. and International clients. Mr. Anuszkiewicz also served as CTO and VP of Network Operations for two U.S based cellular operators. Mr. Anuszkiewicz has served as a Board Member of PCIA for Microwave Clearinghouse and has worked with international governments on regulatory and spectrum auction issues. Mr. Anuszkiewicz holds a Bachelor's Degree in Electrical Engineering from California State University and an MBA from the University of Dallas. He is a registered Professional Engineer and holder of several technology patents.
With over 30 years of spectrum management experience, Mark Gibson is responsible for developing domestic and international business opportunities for Comsearch, a CommScope company, and directing spectrum regulatory and policy efforts. In addition to leading Comsearch's technical and business development efforts for CBRS and SAS, AWS, Spectrum Frontiers, WMTS, TV White Space, plus 600 MHz and 700 MHz and services, he has led efforts to address spectrum sharing between Federal government and commercial users. He is a co-chair of the Commerce Spectrum Management Advisory Committee, where he has also co-chaired several subcommittees. He has led Comsearch's spectrum management efforts including the development of spectrum sharing analysis protocols and sharing criteria, as well as development of Comsearch's engineering services and software products. He has led Comsearch's efforts in working with the American Society for Healthcare Engineering as their technical partner for WMTS frequency coordination. He has authored several papers on spectrum sharing and relocation and has advised numerous wireless participants in their system design. He received his BSEE from the University of Maryland.
Louise Lamont is currently working at the Communications Research Centre (CRC), the Canadian Federal Government's primary research and development lab for communications technologies. CRC works closely with Canadian regulators; providing advice and recommending technical solutions pertaining to sustainable spectrum management. As a program manager, she has been involved with both civilian and military research projects. On the military side, she was a contributor to programs such as the Soldier Systems technology roadmap, the Air Force Science & Technology program for persistent surveillance, and the land tactical C4ISR (Command and Control, Communications, Computers, Intelligence, Surveillance, and Reconnaissance). She led a large research program titled "Making Better Use of Spectrum," acting as the client relation manager (CRM), the scientific authority and the program manager. She is currently responsible for setting strategic research directions for dynamic spectrum sharing at CRC that address both market priorities and client needs. In the Wireless Innovation Forum she has been active in various spectrum sharing projects.
Glenn Laxdal is the CTO and Head of Strategy for Ericsson North America. He is responsible for driving Ericsson's technology direction and company strategy in the disruptive technology areas of 5G, Cloud and IoT. Laxdal joined Ericsson in 2012, most recently serving as Head of Advanced Technology. Before joining Ericsson, Laxdal held leadership positions at RIM, where he was Vice President of Global Product Management for smartphones and tablets. Prior to that, he spent 15 years at Nortel in a variety of executive roles in both carrier and enterprise networks. Laxdal holds two Bachelor's degrees from the University of Saskatchewan and an MBA from the University of Toronto – Rotman School of Management.
Kurt Schaubach brings over 25 years of wireless industry experience to Federated Wireless, where he plays a key role in developing technologies and new business strategies to create the next-generation architecture of broadband wireless. Kurt was most recently Vice President and Chief Technology Officer at the National Rural Telecommunications Cooperative (NRTC) where he was responsible for the company's wireless and broadband technology strategy and product development. Previously, Kurt served in various engineering roles at NextWave Wireless, LCC International, and Southwestern Bell and has also served as a technology consultant to wireless network operators, equipment manufacturers, and semiconductor suppliers. He was a founding member of a publicly traded wireless broadband and multimedia software company and led the acquisition and integration of two wireless infrastructure companies. Kurt has been active in spectrum development, management, and policy matters throughout his career. He currently co-chairs the Spectrum Sharing Committee of the Wireless Innovation Forum. He received his BS and MS degrees in Electrical Engineering from Virginia Tech.
Changes made by membership to the Board include: previously Member at Large Al Jette of Nokia moved into Secretary position, Kurt Schaubach became Small Company Representative which was previously open, Darcy Swain Walsh of MITRE moved to Member at Large from Government Representative now held by new member Paul Anuszkiewicz, and David Renaudeau of Thales moved to Member at Large position making the Chief Marketing Officer an open position.
The Forum would like to thank outgoing members Iyad Tarazi of Federated Wireless and Marc Adrat of Fraunhofer Institut for their service.
Management and oversight of the Forum as a whole, including the Forum's corporate affairs, is performed by the Forum Board of Directors. WInnForum members are dedicated to advocating for the innovative use of spectrum and advancing radio technologies that support essential or critical communications worldwide. Through events, committee projects and initiatives the Forum acts as the premier venue for its members to collaborate to achieve these objectives, providing opportunities to network with customers, partners and competitors, educate decision makers, develop and expand markets and advance relevant technologies. To learn more about the Forum visit http://www.WirelessInnovation.org.