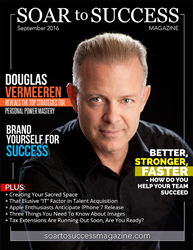 Public speaking is one of the fastest ways to grow your business today - Douglas Vermeeren
New York, NY (PRWEB) January 11, 2017
The Best You London is an event that feature some of the most powerful luminaries in personal development from around the globe. The events objective is to give attendees the tools to become their very best self and empower them to lead lives of brilliance. Each year the event features international experts hand chosen for their ability to create powerful results in the lives of their listeners. It is with great excitement that BEST YOU EXPO announces Douglas Vermeeren, The Speaking Business Multiplier as one of the main stage speakers at the 2017 expo.
This is a special session for speakers, coaches or trainers: https://theukcompany.isrefer.com/go/exhibtion-tickets/D653V/
Douglas Vermeeren is the Speaking Business Multiplier. The best teachers are those who have done it. Douglas Vermeeren has done it.

Generated more than 1.6 Million US in his first six months as a speaker
Shared the stage and joint ventured with almost all of the top names in speaking today
He is the creator of 3 of the top 10 personal development movies of all time. (The Opus with Jack Canfield, Mark Victor Hansen, Joe Vitale, John Demartini, Marci Shimoff, Bob Doyle, Morris Goodman and others. The Gratitude Experiment with Bob Proctor, Marie Diamond, John fray, John Demartini, Mary Morrissey. The Treasure Map with John Demartini, Raymond Aaron, Loral Langemeier, Marshall Sylver, Randy Gage and others.)
Author of multiple top selling books
Largest audience to date 17,000
And more.
He can help professional speakers: Create a highly profitable speaking businesses, Position speakers as an expert, Attract media attention, Get publishing deals, Get more speaking gigs, Speak internationally and JV with other top names in the business.
The Speaking Business Multiplier systems and secrets can be yours. His clients include beginning speakers all the way to movie and music celebrities, professional and Olympic athletes, top business leaders and other speakers including beginners. He has been consistently rated by the media as the top speaker trainer in the world today with the most comprehensive and powerful tools available.
Other trainers stop at presentation skills while Douglas Vermeeren is the only one who helps speakers build the speaking business systems that are needed for success. At this event attendees will find out why all the top speakers are working with him.
Click this link to register for Douglas Vermeeren's session at the Best You Expo to grow a speaking business now! https://theukcompany.isrefer.com/go/exhibtion-tickets/D653V/