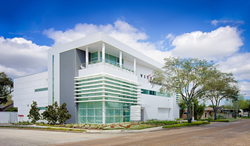 Houston, TX (PRWEB) January 09, 2017
Paul Vitenas, MD FACS, and the staff of Vitenas Cosmetic Surgery, is proud to share the news that they have won the 2017 City Beat News Spectrum Award. This distinguished honor is reserved for local businesses with the highest possible ratings in their particular specialty. This is the third year in a row Dr. Vitenas and his team have taken home the top title.
City Beat News (CBN) is an esteemed publishing and research company, well-known for their annual list of the best small to mid-size businesses across the United States. CBN utilizes a variety of resources, rankings, and assessments to identify the nation's best customer service providers. The Spectrum Award is different from most customer service titles, as CBN is not a customer review site. The businesses nominated for CBN's distinctions are based solely on the cumulative ratings in their field.
The CBN Spectrum Award for Excellence draws upon a range of online sources for rankings before combining this informing into a single score that reflects overall customer satisfaction. The businesses and providers that earn the highest scores are bestowed the annual Spectrum Award. CBN's winning designation of the best customer service providers are made available to assist the public when deciding on trust-worthy, reliable businesses in their area.
Vitenas Cosmetic Surgery's three CBN Spectrum Award wins can be attributed to Dr. Vitenas' emphasis on a safe and satisfying patient experience. Since 1991, the practice has brought patients cutting-edge aesthetic procedures, as well as the most innovative noninvasive techniques. Specializing in breast augmentation, facial rejuvenation, and body contouring techniques, Dr. Vitenas has created his own technique and style to ensure the best results available. In addition to traditional procedures, such as liposuction, Dr. Vitenas and his staff also offer the latest, most innovative new techniques on the market, such as CoolSculpting and laser light therapy.
Dr. Vitenas expands on his goals for quality care, "(At Vitenas Cosmetic Surgery), we feel every patient in our practice is special." He continues, "Plastic surgery is a personal and intimate experience. The rapport that develops between the physician and patient needs to be based on trust and open communication. Patients should feel secure that their concerns and desires will be our first priority." Finally, Dr. Vitenas adds, "With this approach, our practice has gained the trust of our patients, their families and their friends. As a result, we will continue to care for generations to come."
Dr. Paul Vitenas is a graduate of Tulane University Medical School in New Orleans. Board Certified by the American Board of Plastic Surgery, Dr. Vitenas has served the Houston area for more than 25 years. As an active member of the community, Vitenas Cosmetic Surgery gives back by supporting a multitude of local nonprofit groups, including Toys for Tots, Silly Box, and the Houston United Way.
If you would like more information on the surgical or noninvasive procedures available at Vitenas Cosmetic Surgery, or to schedule a consultation with Dr. Vitenas, call the Houston office at 281.484.0088 or fill out the Contact Us form. New patient appointments are complimentary, and can be arranged in the office or online. Get additional details on the 2017 Spectrum Award for Excellence by going to the City Beat News website.