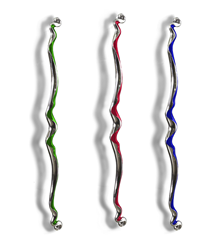 designers are often looking for a door pull that will make a dramatic entry statement
Los Angeles, CA (PRWEB) January 10, 2017
While they are known for their unusual door handles, Martin Pierce Hardware are not known as a design source for powder coated door hardware, so why the departure? When asked, Martin Pierce replied, "While oil rubbed bronze door handles are naturally beautiful and have their own unique patina, designers are often looking for a door pull that will make a dramatic entry statement and vibrant powders give designers an almost endless palette of colors to choose from."
For Martin Pierce, this new direction had to meld seamlessly with the aesthetic shapes of his designs or as he expressed it, "We know that form follows function but color needs to follow form, it cannot be used in a cavalier way and it will not work for all collections." The door handle collections that are being singled out for this colorful option are the Ergo and Morphic styles, both are cast in stainless steel and made by Pierce in Los Angeles using the lost wax method of casting. The Ergo collections grace and fluidity and its pronounced ridge lines make it a perfect choice for the strategic use of color. The Ergo Epic door handle has always been seen as a two tone piece and "we created this effect by highly polishing one side of the curved ridge and sand blasting or satin finishing the other side." This two tone finish makes the piece more interesting and it accentuates the areas that one naturally grips, reinforcing its ergonomic nature.
The Morphic collection is also a perfect choice for color application with color being added to the inside of the piece but with the lattice motif being left in contrasting satin steel.
To apply the powder coat each piece must be masked carefully with a high temperature masking tape before the powder can be applied and cured at which point the tape is removed and the resulting 2 tone piece is revealed.
At present the use of these vibrant colors is being offered for the entry door pulls in both collections but there are plans to extend this scope to interior door levers and cabinet pulls.