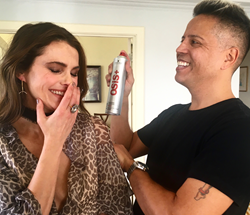 "FIBREPLEX from Schwarzkopf Professional really helped to strengthen the hair and added a lot of shine," says Keri Russell's Golden Globes Hairstylist, Brian Magallones
Los Angeles, CA (PRWEB) January 10, 2017
​Golden Globes Nominee Keri Russell ​stunned on the ​Golden Globes 2017 ​red carpet on Sunday, January 8th wearing her hair down, in a "BOHO-LUXE" style created by ​Schwarzkopf Professional​. Known for her signature hairstyles ​on the red carpet, this year was no exception for Russell. Her celebrity hairstylist, Brian Magallones breaks down how to achieve her​ to-die-for​ strands.
​The BOHO-LUXE​, a modern evolution of the BEACH WAVE, only works if your hair is healthy—not fried. The trick? Wash hair first with ​​FIBREPLEX Sulfate-Free Shampoo and FIBREPLEX N°3 Bond Maintainer, and finish with OSiS+ styling products, all from Schwarzkopf Professional! ​
​
Behind the Scenes Step-by-Step from Celebrity Hairstylist,​ Brian Magallones​:
​1. ​The first step was to shampoo and condition with the Schwarzkopf​ ​Professional's ​FIBREPLEX Sulfate-Free Shampoo and FIBREPLEX N°3 Bond Maintainer (both available for at-home use at Schwarzkopf Professional partner salons). "FIBREPLEX from Schwarzkopf Professional really helped to strengthen the hair and added a lot of shine," says Magallones.
2. ​​He ​then blew her curly hair straight using OSiS+ TAME WILD Smoothing A​nti-​F​rizz Cream from Schwarzkopf Professional to​​ get her hair nice and smooth​, and​​ f​rizz​-free​.
3. ​Next,​ ​he ​put a very relaxed wave in her hair to give it texture.​ ​He ​used a 1 1/2 inch barrel curling iron, and sprayed each section with OSiS+​ ​FLATLINER​​ ​H​eat​ ​​P​rotection​ ​S​pray as he
​curled​, to protect it from the heat styling.
​4. ​After curling all of her hair, he brushed it thoroughly with a paddle brush to relax the wave.
5. ​The next step was to rub some of the OSiS+ MAGIC​​ ​Anti-Frizz Shine Serum between​ ​his ​fingers and lightly run it through her hair to give it shine and keep it frizz free all night long.
6.​ Next, he gave her a middle part to give the look that classic Boho look, and finished the look with OSiS+ FREEZE​ S​trong​ Hold Hairspray to give the look all-night hold, but keeping it feeling touchable, and not sticky.
More Reasons to Love Schwarzkopf Professional's FIBREPLEX:
For hair that is typically coarse and curly, getting hair ​manageable​ can be difficult, especially if you're in LA because it reverts to a ​natural ​wave. By washing hair first with the ​FIBREPLEX Sulfate-Free Shampoo and FIBREPLEX N°3 Bond Maintainer, the hair becomes more manageable and healthy-looking prior to styling.
All OSiS+ products are available on LoxaBeauty.com and Ulta.com, and FIBREPLEX is available at Schwarzkopf Professional partner salons.
Additional information can be found at: Schwarzkopf-ProfessionalUSA.com
###
About Schwarzkopf Professional
Schwarzkopf Professional, part of the Beauty Care business unit of Henkel Consumer Goods, has been a leader in the salon industry for the past 118 years. Present in over 80 countries, and established as a global leading supplier in the hairdressing business; Schwarzkopf Professional offers brands and technologies that make people's lives easier, better and more beautiful. Based on a professional partnership with the hairdresser, Schwarzkopf Professional focuses on providing innovative concepts and services, which match the needs of their international salon clientele.
Well known international brands include; IGORA® (color), BLONDME® (blonde color, hair care and styling), BC BONACURE® (hair care), OSiS+® (styling) and ESSENSITY® (ammonia-free color).
For additional information, please visit our website at Schwarzkopf-ProfessionalUSA.com. For up to the minute news on all things Schwarzkopf Professional, follow @SchwarzkopfUSA on Instagram and Twitter, and also connect with us on Facebook at: Facebook.com/SchwarzkopfProfessionalUSA.
About Henkel
Founded in 1876, Henkel operates worldwide with leading brands and technologies in three business areas: Laundry & Home Care, Beauty Care and Adhesive Technologies. Henkel holds globally leading market positions both in the consumer and industrial businesses with well-known North American brands such as; DIAL® soaps, PUREX® laundry detergents, RIGHT GUARD® antiperspirants, got2b® hair gels, and LOCTITE® adhesives. Visit http://www.henkel-northamerica.com for more information.
​