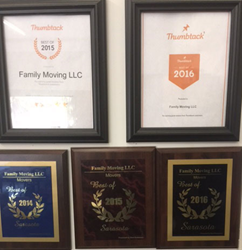 We are grateful and proud to receive the Best Businesses of Sarasota Award for the third year in a row
Sarasota, FL (PRWEB) January 11, 2017
Family Moving, LLC, a leading, local moving company in Sarasota that has satisfied thousands of customers throughout Florida for over 35 years, proudly announced today that it has won the 2016 Best Businesses of Sarasota Award in the movers category.
This is the third consecutive year that Family Moving has earned the award, which is given annually by voters at the Best Businesses of Sarasota Award Program. The accolade celebrates exceptional businesses in various industries that demonstrate a marketplace-leading commitment to customer satisfaction, marketing innovation and community service.
"We are grateful and proud to receive the Best Businesses of Sarasota Award for the third year in a row," commented Family Moving's CEO Davidlee Slate, whose company also won the Best of Thumbtack.com Award in 2015 and 2016, respectively. "Our team of professionally-trained movers are polite, experienced, careful, and committed to providing exceptional customer service. As our name promises, we move more than furniture, we move families!"
In addition to getting award-winning service and value, customers throughout Florida who choose Family Moving enjoy a wide range of extras that most other moving companies do not provide, including:

Loading and unloading services for rental trucks and pods.
Packing and unpacking services that include free moving boxes when they do the packing.
Free use of their wardrobe boxes for all local moving jobs.
Deliveries from furniture stores.
No extra charges for fuel of travel time within the local service area.
For additional information email familymovingllc(at)yahoo(dot)com, or call Family Moving LLC at any of its locations in Sarasota, North Port, Ft. Myers, Venice, St. Petersburg, Cape Coral and Clearwater. All phone numbers are listed on the company's website at http://www.familymovingllc.com.
About Family Moving, LLC
With over 35 years of experience, Family Moving LLC provides affordable, professional and quality assured moving services for residential and commercial customers. The company is a three-time Best Businesses of Sarasota Award winner, two-time Best of Thumbtack.com winner, and has earned hundreds of 5-star ratings on Yelp, Thumbtack, Google+ and other consumer review sites. Learn more at http://www.familymovingllc.com.
About the Best Businesses of Sarasota Award Program
The Best Businesses of Sarasota Award Program was established to recognize the best of local businesses in our community. Our organization works exclusively with local business owners, trade groups, professional associations and other business advertising and marketing groups. Our mission is to recognize the small business community's contributions to the U.S. economy.