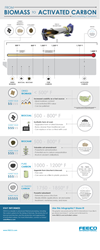 Green Bay, Wisconsin (PRWEB) January 10, 2017
The company, founded in 1951, is well-suited for entry into the market, with a range of equipment and services available; in addition to complete rotary kiln systems for the reactivation and production of activated carbon, they also have a comprehensive offering of both process development and aftermarket services, including a unique testing facility where they can perform both batch and pilot-scale testing.
Dr. Ray Johnson, a long-time industry veteran, met with the company to assess their readiness for market entry. "I'm confident that they'll be able to fill a long-standing gap in the industry, not only with their engineered rotary kilns, but particularly through the use of their Innovation Center, where they can provide material testing and process development for activated carbon applications."
According to FEECO President, Dan Madigan, entry into the activated carbon market was a natural progression for the company. "After decades of developing highly specialized thermal processes and custom rotary kiln systems, moving into the activated carbon market made sense for us. We have a lot to offer that the industry has been looking for."
FEECO will serve both the virgin activated carbon production market, as well as the reactivation market. The company is already working with key players in the market to provide them with engineered kiln systems. Companies interested in learning more about FEECO's capabilities can visit their website, or contact them at sales@feeco.com.