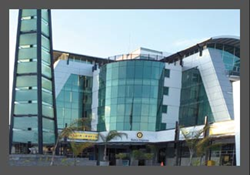 "Costa Rica is an ideal location to build out our nearshore capabilities," said Anudeep Bhatia, Managing Partner at Nsight, "since it is in the Central Time zone, and is easily reachable from any major US city by a flight in a few hours."
(PRWEB) January 13, 2017
Nsight, Inc (Nsight), a leading SAP®, Oracle®, Amazon® and Salesforce® partner, with offices in Silicon Valley, Canada and India, today announced the launch of its additional facility in Costa Rica, offering nearshore capabilities for its North American customer base.
Nsight will leverage the technically talented workforce in Costa Rica to immediately offer the following services:

Help Desk with multiple language options
Network Operations Center
System and Network Support
Custom and Mobile Applications Development
QA and Testing Support
Application Lifecycle Support
Nsight is very positive about Costa Rica for Nearshore Operations, since it has a stable government, friendly and deep ties to the US and easy visa policies for international workforce. In addition, their people's familiarity with US business etiquette, responsiveness, and reliability will help scale this center rapidly, as needed.
________________________________________________________________________________
About Nsight, Inc.
Nsight, Inc. (Nsight), founded in 2005 by "Top Tier" practitioners and headquartered in Silicon Valley, CA, is a leading-edge integration services provider Customer Engagement, UX, Cloud, Mobility and Analytics. As a proud partner of SAP, Oracle, Amazon, Microsoft and Salesforce.com, Nsight has been recognized for its expert knowledge and high quality standards. Using Nsight's value added services and innovative solutions, companies have achieved predictable project results to enable business value and maximize returns on their IT and business. Nsight, Inc. is privately held with offices in California, Texas, Canada, New Jersey and Costa Rica.
For more information, visit http://www.nsight-inc.com
For additional information, contact:
Chandra Shekar– Director of Corporate Communications
Nsight, Inc.
(817) 905-2054 | cshekar(at)nsight-inc(dot)com | http://www.nsight-inc.com