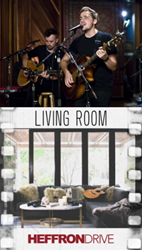 "'Living Room' is about the ups and downs of a relationship. The song metaphorically refers to a living room as the "home" in a relationship, and how we all strive to have that place where we are comfortable and feel safe." - Heffron Drive
Los Angeles, CA (PRWEB) January 11, 2017
KENDALL SCHMIDT, lead singer of the LA Based indie band HEFFRON DRIVE and recent recipient of the Ischia Global Icon Award, alongside bandmate DUSTIN BELT will be celebrating the New Year on January 13, 2017, with the release of their highly-anticipated single "Living Room" and launch of their upcoming International 2017 Tour. "Living Room" comes as an additional sneak peek into their newly announced EP as fans of the band (Drivers) have been anxiously awaiting the release after hearing their latest single releases, "Don't Let Me Go" and "Rain Don't Come." Currently, the EP is set to be released in early 2017. On Friday, January 13, 2017, the following link will allow for viewers to preview the song: TolboothRecords.lnk.to/LR17PR.
In regards to the single and what it means to them, Kendall and Dustin had the following to say:
"'Living Room' is about the ups and downs of a relationship. The song metaphorically refers to a living room as the "home" in a relationship, and how we all strive to have that place where we are comfortable and feel safe. Ironically, 'Living Room' began as an idea in Kendall's living room. [We] started talking about all the aspects of relationships that happen in the living room. From watching TV, eating dinner, arguments, conversations, drinking, dancing, everything. We wanted to write a song that encapsulated all of those ideas and painted a visual for a listener. I think we were able to write exactly what we had imagined."
With the tour starting in Mexico City, Mexico, Heffron Drive will be visiting other countries including Russia, Amsterdam, The Netherlands, France and Italy to name a few. The following list below depicts Heffron Drive's current tour schedule:
Jan.13. | Mexico City, Mexico
Jan.14. | Monterrey, Mexico
Jan.15. | Guadalajara, Mexico
Feb.09. | Moscow, Russia
Feb.10. | St. Petersburg, Russia
Feb.14. | Amsterdam, Netherlands
Feb.17. | Paris, France
Feb.18. | Roubaix, France
Feb.19. | Lyon, France
Feb.20. | Tours, France
Feb.22. | Solothurn, Switzerland
Feb.24. | Turin, Italy
Feb.25. | Naples, Italy
Feb.26. | Rome, Italy
Fans of Heffron Drive can follow their every move in the following social media accounts below:
Twitter: @HeffronDrive 2.45M Followers
Instagram: @kendallschmidt 1.2M Followers / @dbeltwrites 108K Followers
Facebook: @kendallschmidtofficial 2.17M Likes
Vine: /kendall.schmidt - 20.1M Loops
About Heffron Drive (http://www.heffrondrive.com)
Based out of Los Angeles, CA, Heffron Drive (HD) is an Alt Pop band started in 2008 by lead singer Kendall Schmidt and guitarist Dustin Belt. The duo began making music together when they were teenagers. Both Kansas natives met while living on the same street in Burbank, CA called Heffron Drive, which ultimately inspired the name of their band.
Before HD had a chance to take off, Kendall booked the lead of a television show/music group and gained worldwide popularity as the lead Singer of the Nickelodeon/Columbia Records project "Big Time Rush". After 5 years of success, Kendall, alongside guitarist, Dustin Belt, got back in the studio together as Heffron Drive.
The two best friends and band mates have been busy touring all parts of the world since the revival of Heffron Drive. From Europe to South America, the Philippines and all over the US. Their first album "Happy Mistakes" was released in 2015, shortly followed up by "Happy Mistakes: Unplugged;" per the fans request for an acoustic album. "Happy Mistakes" is a soaring example of how pure songwriting can be. The music is thoughtful and meticulously crafted to go along with lyric and melody that pull on every individual heart string.
The response to the album has been fantastic... "Kendall Schmidt proves he's the exception with Heffron Drives 'Happy Mistakes.'" "'Happy Mistakes' is a carnival of smart and dazzling tracks that redefine pop music."
So far, the band has only impressed and they aren't slowing down anytime soon. With the release of their two new singles "Rain Don't Come" and "Don't Let Me Go" in 2016 they have brought a new sound to their music that has pleasantly surprised the fans and attracted new listeners. These two new singles push the limits of what HD is all about; unforgettable music. "Rain Don't Come" is a heart racing track full of desert vibes and incredibly thoughtful production. "Don't Let Me Go" is the new sound for the project, showing the love that HD has for electronic music while keeping their unique sound alive.
What's up next for these two? The band has been hard at work in the studio writing and producing new music. Their first new song of 2017 will be released this month and the full EP to follow in February. They will be playing a few shows in Mexico and then of to Europe for a full European tour in February.