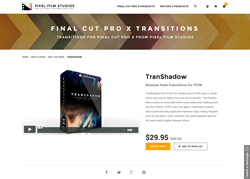 TranShadow gives FCPX editors an entirely new transition which will bring originality and creativity back into any video project
Aliso Viejo, California (PRWEB) January 13, 2017
"TranShadow gives FCPX editors an entirely new transition which will bring originality and creativity back into any video project," said Christina Austin - CEO of Pixel Film Studios.
TranShadow for FCPX comes with over 50 different drag & drop transition presets. Each preset contains a unique shadow fade that masks the first clip and reveals the second clip. TranShadow is an easy to use transition, designed with any skill level editor in mind.
TranShadow contains Prism and Blur controls for exaggerated speed. TranShadow presets have the effect of being slow and elegant, or fast and chaotic depending on the users style. TranShadow's flexible distortion and blur options add realism and style to any project.
TranShadow for Final Cut Pro X is built as a set of Transition tools. FCPX users can apply each preset between the desired clips and adjust the duration accordingly. TranShadow is a simple tool that can be used in Video Projects, or Slide Shows with still Photos.
TranShadow was designed to work seamlessly inside Final Cut Pro X, saving the user valuable time. TranShadow users simply select the desired preset in the transitions window and modify the fade and blur effects. Final Cut Pro X editors can also adjust the length of each transition on the fly, with short render and export times.
Established in 2006, Aliso Viejo, California-based Pixel Film Studios is an innovative developer of visual effects tools for the post-production and broadcast community. Their products are integrated with popular non-linear editing and compositing products from Apple FCPX. Apple, the Apple logo, Mac OS X, and Macintosh are registered trademarks of Apple Inc. in the U.S. and/or other countries. All other trademarks and trade names are the property of their respective owners.