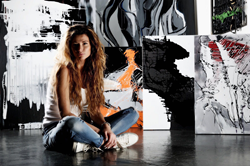 I am extremely excited to finally exhibit my art in the United States
Los Angeles, CA (PRWEB) January 10, 2017
Italian fine artist Ribana Szutor is bringing her paintings to the United States for the first time. Known for transforming everyday images into neo-figurative works of art, Szutor has already earned strong cult followings in Italy, Switzerland, and Monaco, as well as a featured story in Vogue Italia. Now, she plans to spread her unique perspective further, as she enters the American market.
A blend of oil painting and acrylic resin set the stage for Szutor's decidedly existential attitude on a world ruled by dualities. Her signature style includes a combination of color, texture, and imagery, all coated with a blatant disregard for conventionality, one concerned far less on what the spectator sees and more on what is felt.
"I am extremely excited to finally exhibit my art in the United States," said Szutor. "Because of the abstract nature of my work, the meaning constantly shifts depending on the sensibility of the one who views it. Culture to culture, person to person, the story the painting tells will change. I am very much looking forward to learning what new perspective the American people will bring to my art."
Hailing from a small town in Transylvania, Szutor felt the urge to create from a young age. After studying music briefly, she soon felt a calling to transform that musical energy into something visual. As a teenager, she was accepted into a selective art-focused high school and later, went on to earn a Fine Arts degree from Università in Romania and a Master's degree in Interior Design from Università Cattolica Milano Italia.
Today, Szutor's art has become easily identifiable in its abstractive and figurative images, the stylized bodies and faces, and its unpredictable fusion of low and high art. She plays with various mediums, from traditional canvas pieces to functional, yet elaborate, armchairs. It is this unique mixture of real and abstract, mundane and romantic, melancholy and erotic, that has earned Szutor her international appeal.
For more information, please visit http://www.ribana.it/en/.
###