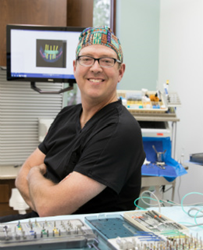 Eau Claire, WI (PRWEB) January 09, 2017
Dr. Bruce Trimble, of Trimble Dental Excellence, now accepts new patients with or without referrals for sedation dentistry in Eau Claire, WI. Dr. Trimble is one of the only dentists in the state who is licensed to offer IV conscious sedation, nitrous oxide and local anesthesia to patients. This allows him to provide a more comfortable experience during treatment to patients who suffer from dental fear or anxiety.
By offering three forms of sedation, Dr. Trimble provides an option to accommodate most patients' preferences and needs. Nitrous oxide sedation, which is inhaled, offers an alternative to injections for patients with fears of needles. IV conscious sedation, which allows patients to stay awake without remembering the procedure, helps create a relaxing experience even for people with severe dental fear. To complement these treatments, Dr. Trimble, a respected dentist, also offers local anesthesia to ease discomfort during basic dental care.
Dr. Trimble makes sedation available to his patients during a full range of treatments, from routine cleanings to more complex procedures such as dental implant placement. This helps patients enjoy a calm, comfortable experience before their treatments as well as during them. In addition, by offering sedation dentistry, Dr. Trimble ensures that patients do not have to experience lapses in care and subsequent oral health problems as a result of their dental fear.
Patients who would like to learn more about their options for sedation dentistry near Eau Claire, WI are invited to visit the website of Trimble Dental Excellence at http://www.trimbledental.com. People who are ready to schedule consultations can do so through the website or by calling (715)-235-1108.
About the Practice
Trimble Dental Excellence is a general practice offering personalized care for patients in Menomonie, WI. Dr. Bruce Trimble offers a variety of services, including advanced dental implants and sedation dentistry. Dr. Trimble is a graduate of the University of Minnesota and has dedicated his professional career to providing you with the best that dentistry has to offer. He is continually educating himself and his staff on the newest techniques and advances to offer you state-of-the-art, antiseptic, personalized & comfortable dental care. Dr. Trimble is a fellow of the International Congress of Oral Implantologists & the Misch International Implant Institute. He is also among the few dentists in Wisconsin who are licensed for IV sedation and has received a certificate from the Temple School of Dentistry for Surgical Oral Implantology. To learn more about the services offered at Trimble Dental Excellence, please visit their website, http://www.trimbledental.com or call (715) 235-1108 to schedule an appointment.