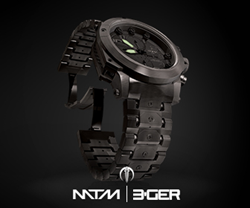 Los Angeles, CA (PRWEB) January 13, 2017
Adding to MTM's dynamic reputation as the leading manufacturer of rugged and durable watches, the 3-GER collectible is truly revolutionary. It is the first watch model in the MTM lineup to be equipped with automatic movement. The 3-GER utilizes a certified COSC (Official Swiss Chronometer Testing Institute) Swiss Chronometer Day-Date ETA 7750 Movement. Fewer than 3% of all Swiss watch movements are accurate enough to be awarded with this certification.
The watch case is fabricated from solid grade-2 titanium steel, offering the ultimate combination of strength, durability and comfort in light weight. Each case is meticulously CNC (Computer Numerical Control) machined, one case at a time, to ensure MTM's demanding tolerances and long-life expectancy qualities.
The exclusive & limited edition 3-GER collectible was fully designed, developed, engineered and assembled in the United States, with only 340 pieces (200 Black, 50 Silver, 50 Gray & 40 Gold) manufactured in total. It is available in four different finishing colors, Black True DLC, Gray Sandblast, Brushed Silver and Gold Micron Plated. It's unique design can be customized with different finishing components to make a one of a kind watch, built uniquely for the desired collector.
The 3-GER's elevated bezel is one of a kind. By slightly rotating the bezel counter-clockwise, the 3-GER's proprietary gearing mechanism will raise the entire bezel 1 millimeter above the watch's sapphire crystal. This provides an added level of protection to the crystal when the wearer encounters extreme conditions or makes rough contact with sharp or hard objects. By simply repeating the counter-clockwise rotation once, the bezel returns to its normal position, which is level with the sapphire crystal. The dial is also specially designed with raised block indexes and numerals. The three chronograph sub-dials are also raised and correspondingly trimmed to coordinate with each of the 3-GER's finishes and 3 o'clock positioned day/date window. The watch case back contains a transparent, exhibition type sapphire crystal glass, providing visibility into the watch movement. It is also stamped and molded with MTM's dagger insignia.
Design ingenuity and attention to detail does not stop with the watch case, dial, hands or bezel. The 3-GER bracelet is completely unprecedented and has not been manufactured or designed by any other company at any price point. It is the world's first ball-bearing watch band. Each individual bracelet link is CNC machined from solid titanium and precisely connected via machined and polished bearings, rather than standard pins. This creates a smooth and floating bracelet design that is unparalleled, not only in uniqueness, but in comfort as well. It rests seamlessly along the wrist without pinching or poking any part of the skin, and is visually stunning from all angles.
We invite you to view the 3-GER collectible, an unprecedented, radically new timepiece by MTM. Please feel free to visit our website or contact us for more information.