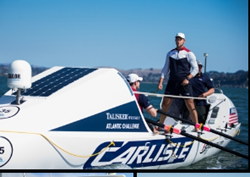 There are so many things that can thwart a team seeking victory.
San Francisco, CA (PRWEB) January 11, 2017
Latitude 35 Racing Team currently leads a group of elite rowers in the 2016 Talisker Whisky Atlantic Challenge (TWAC), often described as the most grueling rowing race on the planet. Competing among elite rowers from around the world, Latitude 35's captain, Bay Area native Jason Caldwell, and his crew have their sights set on winning this year's race.
Right now, after a month at sea, the team is doing everything possible to stay in first place. But throughout the race, the days and nights present constant challenges that can easily thwart a team seeking victory.There have been long stretches inhabited by torrential storms with forty-foot waves and more treacherous days expected to come; but conversely, there have been days when the ocean has remained completely calm without a ripple. Over a 24-hour period from January 8 to 9, Latitude 35 Racing covered 82 nautical miles, a so-called fast day of rowing; on a slow day, the boat travels about 9 nautical miles.
The Talisker Whisky Atlantic Challenge is a 3,000 mile race across the Atlantic Ocean. This year's race started in San Sebastian, La Gomera in the Canary Islands on December 14th and will finish some 50-plus days later in the English Harbor of Antigua in the Caribbean
Rowing across the Atlantic is challenging enough, but the official guidelines stipulate that each team must complete the race unassisted. This means teams pack their own food, generate their own potable water, and navigate without assistance throughout the entire race. Any infraction of these rules--along with breaking any other regulations--can result in immediate disqualification.Therefore, teams must be proficient in some of the details other than the physical demands of rowing, such as routing, hygiene, nutrition, and teamwork. It is a disciplined training being put to the test right now in the middle of an unforgiving Atlantic Ocean.
Latitude 35 Racing's multi-national team is comprised of two Americans and two Britons. The team has amassed over 15,000 miles of ocean racing over the past three years. Experienced UK crew-mates Angus Collins and Alex Simpson provide a nice complement to Captain Jason Caldwell, who returns to the TWAC after setting the American Course Record in 2015, and teammate Matthew Brown, a United States National Champion at the elite level in the single scull.
Caldwell is also co-owner of Latitdue 35 Leadership, a leadership development company that builds high performance teams and offers consulting, assessment and individual performance coaching. As company president, Caldwell has worked with companies such as Nike, Booking.com, Vanguard, and Deutsche Bank, and has trained executives at top business schools: the Wharton School, the Darden School, and the Business School at Columbia University, "It seems quite natural to bring these two parts of my life together," Caldwell said prior to the race.
For more information on the Latitude 35 Racing and the TWAC, please visit the official race website: http://www.taliskerwhiskyatlanticchallenge.com. To email the team: info(at)lat35racing(dot)com or contact land manager Tom Magarov: TMagarov(at)lat35racing(dot)com for ongoing updates.