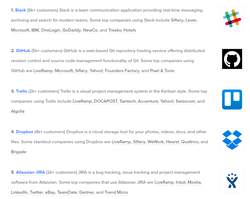 Intercom, a new entrant to the Top 25 in the December report, continued its upward momentum.
San Francisco, CA (PRWEB) January 11, 2017
Siftery, the B2B software community database company, today released a new report of the top trending business-to-business and enterprise software products for January 2017. The report is based on self-reported data collected during the month of December from thousands of verified users working at top companies.
The monthly report helps business software buyers discover the most widely-used products according to their peers and monitor usage trends among specific products or categories of products. Siftery users are also able to see previously inaccessible information such as customer lists for specific products, market share information, related and competitive products, and more.
To view the report, please visit: https://siftery.com/insights/trending-products-january-2017/
The January Trending Products Report contains the most popular products based on the last 30 days of data.
Most popular: Slack, Github, Trello, and Dropbox maintained their leadership positions, in what proved to be a very stable period at the top.
Biggest movers: Mailchmp had a very strong period, moving up 12 spots to #8. Intercom, a new entrant to the Top 25 in the December report, continued its upward momentum and was the 20th most popular product in the period.
New entrants to the Top 25 include Atlassian Bitbucket, Adobe Photoshop, and MongoDB.
About the Trending Products Report
The results are based only on data collected directly from product users and verified by company e-mail addresses.
Data collected through vendors or programmatic web scraping are not included in the report unless they're verified by company users.
About Siftery
Siftery tracks thousands of B2B software products and hundreds of thousands of companies that are using them. The company collects the data through a combination of programmatic web crawling, self-reporting from vendors, and tens of thousands of software buyers through Siftery.com. The Siftery community includes investors, analysts, software buyers and other decision-makers. The company raised a $4M seed round in 2016, and is headquartered in San Francisco.