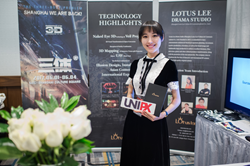 Lotus Lee Drama Studio Visit APAP as First Step in Development of Offshore Business
(PRWEB) January 10, 2017
Lotus Lee Studio Drama Studio recently attended the Association of Performing Arts Presenters (APAP) conference in New York City, the studio's first step in reaching out to offshore business subsidiaries while introducing the performing arts world to their unique 3D stage show, "The Three-Body Problem Drama."
According to studio founder Lotus Lee, the company's visit provided an opportunity to show the world the company's performing brokerage firm concept while allowing Lee and her colleagues to discuss their work. Their goal is to bring works like The Three-Body Problem Drama to the international stage.
"We strategically selected to attend APAP as our initial step in deepening our international relationships because the event is one of the most important trade fairs in the world, bringing together world-renowned performing arts talents and works," Lee said. "We have been working closely with the international community to enhance the mutual understanding of our works. This is an important platform for us."
Lotus Lee Drama Studio's premier piece is "The Three-Body Problem Stage Drama," a spectacular stage show from the creator of the famous Lost Tomb Drama 3D. The3D stage drama, which debuted in China June 1 at Shanghai Culture Square, employs cutting-edge stage technologies, including as 3D mapping, lasers and UAV technology.
The show is based on The Three-Body Problem, the first science fiction novel in Asia to receive the Hugo Award for Best Novel. The sci-fi masterpiece by Liu Cixin uses the "three-body problem" of classical mechanics to ask some terrifying questions about human nature and what lies at the core of civilization.
"Three-body" is the first sci-fi adaptation to the domestic theater stage.
Lee said it was challenging breaking through the narrow traditional stage space to create a seamless transition between the real environment and the three-body magic fans of the book would appreciate. The creative team worked hard to maintain the integrity of the story structure while creating a visually stunning stage design integrating a large number of high-tech elements, such as the use of indoor, unmanned aerial vehicles, 3D mapping (holographic projection), yarn screen projection technology and more.
According to Lee, author Liu Cixin enjoyed the show's premiere, giving it high marks.
"He was very excited after the end of the premiere and said he was 'deeply shocked'," she said. "Mr. Liu mentioned that he enjoyed the show's multimedia expression and found it very exciting."
Lee said the actual stage show turned out better than anyone expected. Going forward, they are going to work on continually improving the high tech features of the show.
Held in New York City, APAP 2017 was a five-day event for members of the Association of Performing Arts Presenters. Drawing 3,600 presenting organizations, artists, managers, agents, support organizations, vendors, consultants, speakers and arts leaders from all 50 U.S. states and more than 33 countries, it was the world's premiere gathering of performing arts professionals. Learn more about APAP at http://www.apapnyc.apap365.org/.
For more information about Lotus Lee Drama Studio, go to http://www.lotus-lee.com.