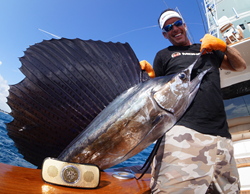 Peter does a phenomenal job conveying his passion for music and his love of the outdoors. He's the ideal spokesperson for Monster as we launch products that deliver unprecedented outdoor sound.
Las Vegas, Nevada (PRWEB) January 10, 2017
Monster®, the world leader in personal audio, is proud to welcome Peter Miller, Emmy-nominated, nationally-renowned television host, producer, spokesperson, philanthropist, professional angler and world champion fisherman, on board as the company's latest Monster VIP Partner. An expert fisherman with a lifelong passion for both music and the ocean, Miller is an ideal partner. Monster will help to cross promote Peter Miller's brand in sales channel development and integration through Monster's global worldwide network. Visit Peter Miller's Monster site to learn more.
Peter will help to promote a variety of Monster products, including the splash-proof SuperStar™BackFloat™, the floating wireless speaker with a durable silicone shock proof shell designed for all-weather outdoor use – ideal for fishing and other aquatic sports. Miller will also help promote the popular Monster Blaster outdoor Bluetooth speaker with deep pounding bass which has the power to bring music to outdoor life (the boombox redesigned for the 21st century) and the stylish high-performance Elements headphones.
Miller will also direct, produce and star in Monster's first-ever national commercial. The commercial is a "day in the life" of Miller, who is also a three-time World Sailfish Champion. The commercial will begin running on National Network TV, Jan 4th, 2017. Prior to directing the Monster spot, Miller also co-produced Miami celebrity rapper Pitbull's music video, "Sexy Beaches."
Head Monster Noel Lee announced the partnership with Peter Miller during a CES press conference. Notes Lee: "Peter does a phenomenal job conveying his passion for music and his love of the outdoors. He's the ideal spokesperson for Monster as we continue to design and launch products that deliver unprecedented outdoor sound and bring fans more ways to combine all their favorite music with fun outdoor activities."
At the annual Consumer Electronics Show (CES), Miller was on hand at the Monster booth, sporting images from his television show that feature Monster speakers, specifically SuperStar™ BackFloat™ which also features built-in mics that offer speakerphones for crystal clear conference calls.
Here's a video of Head Monster Noel Lee introducing Peter Miller at the 2017 CES Press conference.
Monster has also sponsored Miller's seven-time Telly award winning television show, Bass 2 Billfish with Peter Miller, which appears weekly on NBC Sports and the World Fishing Network. The Telly Awards, now in its 37th year, honors the best in film and video productions, groundbreaking online video content, and outstanding local, regional, and cable TV commercials and programs. Miller's highly popular fishing show is now in filming and production for its impressive eighth season.
About Peter Miller
Peter Miller is a professional fisherman, three-time world sailfish champion, spokesperson, host of NBC Sports program Bass 2 Billfish with Peter Miller, and founder of internationally-awarded 'Get Lit' fishing team. Widely regarded as a social media guru, the fisherman turned celebrity has held one of the Top 50 Twitter accounts in the fishing industry, and thousands of followers on platforms like Instagram and YouTube. Appearing in both print and television, Miller has transcended the niche fishing market and became a widely-regarded personality for his rugged good looks, natural charisma, and comfort with public appearances. Also an outspoken wildlife and environmental conservationist, he sits on the boards of both the Everglades Foundation and the Florida Fish and Wildlife Foundation. Through his efforts, these organizations have been able to raise multiple millions of dollars for conservation, and for programs like Make-A-Wish, Heroes On the Water, and the National Down Syndrome Society. To preview previous episodes of Bass to Billfish with Peter Miller visit http://bit.ly/29b31Hw. For information regarding Peter Miller, his various philanthropic, television, and personal pursuits, visit http://petermillerfishing.com/
About Monster
For the past 36 years, Monster® has been a catalyst for innovation and big ideas. Discovering that cables in hi-fi systems influenced the sound, Head Monster Noel Lee developed Monster Cable - an immediate hit. Monster® engineered the sound of Beats® headphones, and has since become the world's leading manufacturer of high-performance headphones, all featuring Pure Monster Sound™ technology. Today, the company offers advanced connectivity solutions for professional musicians, home entertainment, computing, mobile and gaming, as well as high performance AC Power and conditioning products. Monster® continues to lead in innovation with Monster having been granted over 500 Patents and 100 patents pending worldwide, offering more than 5,000 products in over 160 countries. Monster® also prides itself in helping those who are in less-than-fortunate circumstances through Monster Cares. Above all, Monster® does what it does Because the Music Matters.