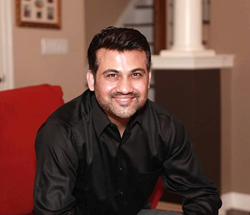 I have poured my heart out in this book to present the gist of what I have learned about achieving success.
Toronto, Canada (PRWEB) January 11, 2017
Valu Ventures Inc. published the book, "The First Dancer – How to be the first among equals and attract unlimited opportunities." The book, written by Majid Kazmi, takes an interesting view on creating opportunities for success in the backdrop of his own experience as an immigrant to Canada. The First Dancer has been released internationally in digital and paperback formats.
In his book, Kazmi, who is regarded as an immigrant success story and an emerging leader in Canada, has dissected the topic of success by describing the factors that help successful people create opportunities when apparently none exist. As a social entrepreneur, public speaker, blogger and board member who regularly writes about personal and professional success through his blogs on The Huffington Post and other notable publications, Kazmi is not unfamiliar with the secrets of attracting opportunities. His book is being viewed as a much awaited addition to his insightful blogs on personal and professional success.
The First Dancer has been well received by the non-fiction author community around the world. Robin Sharma, famous author of the bestseller "The Monk Who Sold His Ferrari" and founder of The Titan Summit called it "A potent tool to lift your life and raise your game." Kevin Kruse, the New York Times bestselling author of Employee Engagement 2.0 among other books said that The First Dancer is an "unusually witty and stylistic book that challenges you to demand more from yourself." Faisal Kutty, professor of law and columnist for The Star termed it a "weighty must read on how to develop your full potential and leave an indelible impact on the world around you."
"I have poured my heart out in this book to present the gist of what I have learned about achieving success in the most candid of ways," says Kazmi. Through engaging personal anecdotes and fascinating examples of real people, the book explains how some people find luck in whatever they do in life while others with similar education, skill sets and backgrounds wait a lifetime for the right opportunities. Kazmi calls the former lot the first dancers—"folks who neither wait for the ideal time to make an impact nor rely on benefactors to create opportunities for them." He lays out a personal development plan for the readers that opens up new ways for looking at success and reaching one's highest potential.
The First Dancer has been released internationally and can be purchased on Amazon and other online and physical bookstores. The hardcover version will be released shortly.
About Valu Ventures
Valu Ventures Inc. is a social enterprise that helps immigrants start and grow their own businesses in Canada. The company's mission is to create the same business opportunities for Canadian immigrants that exist for non-immigrants in Canada and to make those immigrants effective contributors to the growth of the Canadian economy and progress of the Canadian society.