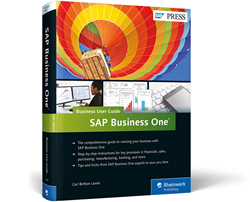 Quincy, MA (PRWEB) January 11, 2017
SAP PRESS has published the new SAP Business One: Business User Guide. First of its kind in the Business One (B1) community, the book is positioned to be the one-stop guide for those who seek to make their lives as SAP B1 users easier.
The book was authored by a team of SAP B1 Partner Advisory Council members and led by Vision33 general manager and program chair for the Americas' SAP Users' Group (ASUG) SAP B1 Special Interest Group, Carl Britton Lewis. The book covers everything readers need to know in order to do their jobs better in SAP B1.
Lewis, who also started the ASUG conference for SAP Business One over a decade ago, said that a "more comprehensive user guide for SAP Business One has been overdue for at least a decade." He was inspired to work on the book due to the persistence of users asking him to write one. "If you're new to SAP Business One I am confident that no other resource will deliver as much value when trying to first learn about SAP Business One," he added. "Together we have shared our tips and tricks and all the secret handshakes we have discovered through the years."
This is SAP PRESS' first comprehensive guide to the solution in the past ten years and the publisher is excited to bring this new resource to the SAP B1 community. The book will include sections on:

Administration
Financials and banking
Sales
Purchasing
Inventory management
Resource management
Production
Material requirements planning (MRP)
Human resources (HR)
Project management
Reporting
Mobile
The book is available in print, electronic, and bundled editions and can be purchased via the SAP PRESS website and Amazon.com.
About Carl Britton Lewis
Carl Britton Lewis is the chief SAP Business One ambassador for Vision33, the largest reseller of SAP Business One globally.
About SAP PRESS
SAP PRESS was founded in Bonn, Germany in 1999 as part of a joint venture between Rheinwerk Publishing and SAP. Today, it is the world's leading publisher on SAP topics, providing comprehensive book and e-book products on SAP topics for beginners and experts; SAP users and consultants; developers, administrators, and IT managers. For more information, please visit http://www.sap-press.com.
Contact
To learn more about SAP Business One: Business User Guide, please contact:
Aja Walkes, Marketing Manager
2 Heritage Dr. Suite 305
Quincy, MA 02171
Office: (781) 228-5070 Ext. 210
ajaw(at)rheinwerk-publishing(dot)com