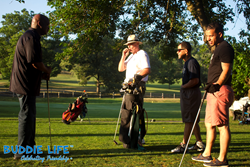 When we are with our friends in thought or person, we are living the Buddie Life
STRATHAM, NH (PRWEB) January 12, 2017
BuddieLife.com is proud to announce the establishment of a whole new concept that centers around forming lasting relationships and enjoying life to its fullest. The new website encourages people to enjoy their lives with their friends and family.
Company founder, Michael Gray, first had the idea for his business while smoking a cigar with long time friend, Gary Lighting about 3 years ago. As a hearing impaired person, who communicates through lip-reading, Michael had always felt isolated from the world, but his parents gave him the strength to endure through the difficulties. As Michael grew up, he was able to overcome the isolation by developing lifelong friendships with people in all walks of life.
In spite of his handicap, Michael eventually found many good friends along life's way and got involved in fishing, golfing, sports and other fun-filled hobbies. He believes that young and older individuals alike can become better-rounded people by developing friendships and making the decision to relish each day as if it were the last.
Michael Gray and Buddie Life have a mission to remind all mankind of the value of developing healthy relationships with others and having a good time being with them. Michael and his Band of Buddies have helped him overcome the shyness and awkwardness related to being hearing impaired. The website also offers a deluxe line of upscale tee-shirts and ball caps for men and women. "Our brand represents more than a than a clothing line; it is a celebration of those priceless moments that we make when we are with our friends in thought or in person."
About Buddie Life
BuddieLife.com encourages camaraderie among people of all ages, both men and women. The message that founder, Michael Gray would like to spread, is all about making memories with friends and family doing what they enjoy together. Michael is committed to empowering people to build healthy relationships and celebrate life. For more information, please visit: BuddieLife.com.