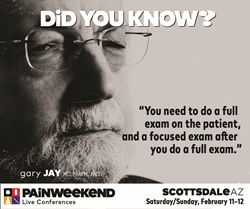 Montclair, NJ (PRWEB) January 11, 2017
Following an incredibly successful series of regional conferences in 2016, PAINWeekEnd (PWE) returns on February 11 and 12 at the Hilton Resort & Villas at 6333 North Scottsdale Road. The two-day program will provide busy clinicians and allied healthcare practitioners with 12.0 hours of relevant, practical instruction in the management of chronic pain.
Arizona may have a medical marijuana law passed in 2018, to help people with cancer, glaucoma, HIV/AIDS, Crohn's disease, and others in "severe and chronic pain." By attending PAINWeekEnd Scottsdale, participants can enhance their skills in medication risk evaluation and mitigation, pain assessment and diagnosis, and delivery of individualized multimodal treatment as they receive 12.0 credit hours towards Arizona's CME requirements.
Course topics/titles (subject to change) include Embrace 2017 Practice Changes and Patient Education: Mitigate Clinical and Legal Risks; Evidence Based Approaches to Chronic Pain Management: Time to Reconsider the Benefit of Technophilism?; Get Your Specimens in Order: How to Avoid Bad Company and Tame the Paper Beast Associated With Testing Drugs of Abuse; If 6 Were 9: The CDC's Prescribing Guidelines and the Veil of Secrecy; The Importance of Chart Documentation Through the Eyes of a Chart Reviewer; The Medical Stasi: Is Risk Management for Controlled Substances Destroying the Provider-Patient Relationship?; Migraines: A to Z; Naloxone Prescriptions for Overdose: Outside of Misuse and Abuse; Pain Diagnostics: Clinical Pearls to Improve Common Tests for Pain; Pain Pathophysiology Unraveled; Role of Advanced Practice Providers in Chronic Pain; and When That Shark Bites: Classic Central Pain Syndromes. In addition, there will be commercially supported activities addressing a range of product, disease state, and medical information topics.
To see the complete agenda and more information about this or other PAINWeekEnd Regional Conference, go to painweekend.org.
The online registration fee for this PAINWeekEnd Conference is $199. PAINWeekEnd registrants are further offered the opportunity to register for the 2017 PAINWeek National Conference, September 5-9, in Las Vegas, for $129 off the current online published price.
PAINWeekEnd is provided by Global Education Group.