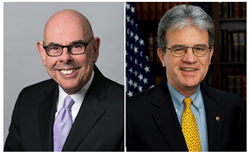 These veteran legislators served during the terms of several presidents and their administrations, and experienced many transitions of power in the U.S. Congress.
Cambridge, MA (PRWEB) January 10, 2017
Former U.S. Senator Tom Coburn and former U.S. Representative Henry Waxman will discuss the impact of the 2016 election on healthcare, labor, and workers' compensation at the Workers Compensation Research Institute's (WCRI) 33rd Annual Issues & Research Conference, March 2-3, 2017, at the Westin Copley Place Hotel in Boston, MA. The two former federal lawmakers will kick off the conference on Thursday, March 2, at 9 AM.
"These veteran legislators served during the terms of several presidents and their administrations, and experienced many transitions of power in the U.S. Congress," said Dr. John Ruser, WCRI's CEO and president. "In short, they have seen it all and have a deep understanding of the powers that the president, Congress and state legislators have over the many issues important to our audience. This will be a timely discussion."
The 2016 election resulted in large gains for the Republican Party. Apart from winning the presidency and retaining control of both houses of the U.S. Congress, the Republican Party is now in control of a record 68 of the 99 partisan state legislative chambers in the nation and has the highest number of governorships since 1922. A host of major changes to existing laws and regulations are expected at the federal and state level. In this candid discussion, Waxman and Coburn will share their thoughts on the political shift and the impact it will have on healthcare, labor, and workers' compensation in the years to come.
Both Coburn and Waxman bring a wealth of experience and knowledge of the federal government to WCRI's conference. Former U.S. Senator Coburn is a medical doctor who represented the state of Oklahoma as a Republican in both the U.S. House of Representatives and the U.S. Senate. Described by newspapers as a budget hawk, he established himself as "a statesman willing to reach across the aisle to find solutions to the nation's budget woes" and as a man who is "thoughtful and willing to seek solutions to big problems." Former U.S. Representative Waxman represented the state of California as a Democrat and was dubbed a "legislative maestro" by Politico for his distinguished work in Congress, having played a leading role in the enactment of major health, consumer protection, environmental, telecommunications, and "good government" laws.
The theme of this year's conference is "Persistent Challenges and New Opportunities: Using Research to Accelerate the Dialogue." The two-day program highlights WCRI's latest research findings while drawing upon the diverse perspectives of highly respected workers' compensation experts and policymakers from across the country. The following are among some of the other topics on this year's conference agenda:

Appraising The "Grand Bargain" In 2017
How States Are Combating The Opioid Epidemic
Marijuana As An Alternative To Opioids In Treating Pain
Worker Outcomes And Return To Work
Applying Value-Based Health Care To Workers' Compensation
The WCRI conference is a leading workers' compensation forum for policymakers, employers, labor advocates, insurance executives, health care organizations, claims managers, researchers, and others. Conference participants will leave with new insights, valuable networking contacts, and a better understanding of key issues in today's competitive environment.
Those who register by Wednesday, February 1, 2017, can take advantage of the early bird special and save between $50 and $100. For more information about the program, or to register, click on the following link: http://www.wcrinet.org/conference.html.
ABOUT WCRI:
The Workers Compensation Research Institute (WCRI) is an independent, not-for-profit research organization based in Cambridge, MA. WCRI was founded in 1983 and is recognized as a leader in providing high-quality, objective information about public policy issues involving workers' compensation systems. WCRI's members include employers; insurers; governmental entities; managed care companies; health care providers; insurance regulators; state labor organizations; and state administrative agencies in the U.S., Canada, Australia, and New Zealand.