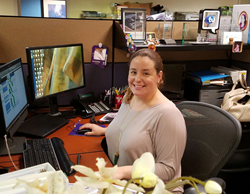 Miami, FL (PRWEB) January 17, 2017
Watching television can be a great stress reliever after a long day. But how do programs get from production to the audience? That's where people like Ingrid Cupeiro play a leading role. As a member of the programming department at Telemundo Network, Ingrid schedules and coordinates programs, and she loves every minute of it. She also works on strategy, brainstorming how to compete with other networks.
"My favorite part of the job is the competitive side," Ingrid says. "I like to see how they function against each other, and see how they compete against each other."
While Ingrid may have found a job she enjoys, at one point she wasn't sure if she would graduate high school – let alone college. This is because Ingrid was diagnosed with Attention-Deficit/Hyperactivity Disorder (ADHD) and math learning disabilities at a young age, which caused her to struggle in school. According to the Center for Disease Control and Prevention, approximately 11 percent of children ages 4-17 have received an ADHD diagnosis.
Her school counselor recommended Vocational Rehabilitation (VR), a federal-state agency that helps people with disabilities get or keep a job, to help her transition from high school to the workforce. Ingrid began meeting with VR counselor Fabiana Puliti to plan her future.
After Ingrid graduated high school, she set her sights on earning a college degree, and VR provided financial assistance to make her dream a reality. "I know Ingrid was a hard worker," Fabiana says. "She was a very independent young lady who would contact me when she needed help paying for something."
Ingrid excelled in college, earning her Associate in Arts degree from Miami-Dade College and a Bachelor's in Communication Arts from Florida International University. "VR helped me tremendously," Ingrid says. "Without them I wouldn't have been able to graduate. It was a bumpy road because I lost my mom at a young age. VR helped me get through that."
When Ingrid isn't working, she enjoys spending time with her family. Although math was never her favorite subject in school, she does enjoy reading. "Whenever I have the opportunity I will have a book in my hand," she says.
Ingrid has found the perfect job at Telemundo. She is glad her employer didn't judge her based on her disability during the hiring process. "Everyone has a difficultly in something," she says. "I think employers should just see past that, and give someone a chance. They will be surprised."
About Vocational Rehabilitation
Florida's Vocational Rehabilitation (VR) is a federal-state program committed to helping people with disabilities become part of America's workforce. The employer-focused website, https://abilitieswork.employflorida.com/, allows businesses to search at no charge for employees who are ready to go to work, as well as to post available jobs. VR has 90 offices across Florida, and last year helped 5,760 Floridians with significant disabilities find or keep a job. For more information about VR and its services, call (800) 451-4327 or visit http://www.Rehabworks.org.