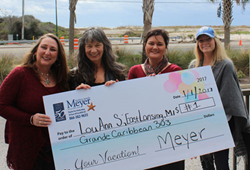 "We are very excited to be able to give something back to those who have been so devoted to Meyer and also to our little slice of paradise over the years."
Gulf Shores, Alabama (PRWEB) January 11, 2017
In January, Meyer Vacation Rentals awarded nine free beach vacations to guests visiting the Alabama/Florida Gulf Coast area.
Meyer will award a total of 50 surprise beach vacations in 2017 as part of its 50th Anniversary Celebration.
The winners hail from throughout the United States:

Lou Ann S. - East Lansing, Michigan
Thomas P. - Saraland, Alabama
Lisa C. - Sedalia, Kentucky
Scott H. - Pekin, Illinois
Kevin K. - Sioux Falls, South Dakota
Chantel D. - Montgomery, Alabama
Douglas L. - Bristol, Tennessee
Melynda W. - Springfield, Missouri
James S. - Oshkosh, Wisconsin
Meyer Vacation Rentals President Michelle Nelson said the company is excited to be able to surprise guests with a check representing a refund in the amount of their rental cost.
"This is our way of thanking the thousands of families we have hosted on the Gulf Coast since 1967. Meyer guests staying in one of our properties on the day of the surprise drawing are automatically entered into the drawing for that day. We are very excited to be able to give something back to those who have been so devoted to Meyer and also to our little slice of paradise over the years."
Lou Ann S. of East Lansing, Mich., who visited Orange Beach for a winter retreat, said the refund check was a happy surprise.
"I was absolutely surprised to be selected as a winner. I am a retiree from Michigan State Police and chose Orange Beach for my winter getaway this year. I love everything about the area—the beaches, the weather, the people, and all of the activities. I especially enjoyed seeing the Blue Angels perform, but have enjoyed simpler activities on a daily basis such as dance class at the Orange Beach Recreation Center, biking and hiking. I would highly recommend renting from Meyer."
Meyer manages more than 1,100 vacation rental units located throughout Gulf Shores, Fort Morgan and Orange Beach, Ala., and Perdido Key, Fla.
"Ranging from cozy beach chic to high-end luxury, our properties appeal to vacationers from all over the United States regardless of budget," Nelson said. "Whether a couple needs a spot for a quick weekend getaway, a family of 30 would like to gather in one house for a reunion or a wedding, or a winter guest would like to spend a month or three on the Gulf Coast, our inventory of individually owned beach houses and condos guarantees we have a vacation property suitable for everyone."
Views include Gulf front, Gulf view, lagoon front, bay front and golf course. Properties range in size from one-bedroom efficiencies that sleep two to luxurious 20-bedroom beach houses for more than 50.
Properties feature a variety of amenities, such as indoor and outdoor pools, lazy rivers, hot tubs, exercise rooms, saunas, steam rooms and more. All feature living areas, fully equipped kitchens, balconies or decks in addition to private bedrooms and baths.
Guests who have stayed with Meyer for generations consistently praise Meyer's hospitality, including William R. of Nashville, Tenn. "We have visited Gulf Shores twice a year for the last 20 years to play golf and enjoy the beach. I would like to personally thank you for your great service."
###
About The Winners
A full list of winners can be accessed here. More about the vacation giveaways can be accessed here. Access a full media kit here.
About Meyer Vacation Rentals
Driven by an unwavering commitment to providing superior service and support to vacation rental property owners and guests, Meyer Vacation Rentals has helped hundreds of thousands of vacationers stay, play and create lifelong memories in Gulf Shores, Fort Morgan and Orange Beach, Alabama, and Perdido Key, Florida, since 1967. Learn more at Meyerre.com/media.