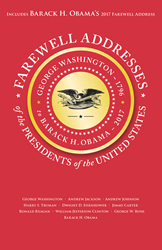 Reading these addresses is like opening a time capsule. Each is reminder of how much we, as a nation, have changed and how much we have stayed the same.
Carlisle, MA (PRWEB) January 11, 2017
Applewood Books announces the instant publication of a book that honors more than 200 years of American presidential history: a collection of presidential farewell addresses Using just-in-time printing and binding, the company will ship these books to customers beginning on January 11, just one day after President Barack Obama's historic farewell address at McCormick Place in Chicago.
Farewell Addresses of the Presidents of the United States is a new collection of speeches, gathering nine addresses delivered by departing presidents, from George Washington in 1796 to Barack Obama in 2017. George Washington's farewell address set the standard, and has been followed by eight subsequent presidents. President Washington's address has been so respected and influential, that it has been read aloud in the Senate chamber every year on February 22 since 1896. In it, Washington gave his view of the Union, the Constitution, and good citizenship. The nine presidential farewell addresses gathered here — Washington (1796); Andrew Jackson (1837); Harry S. Truman (1953); Dwight D. Eisenhower (1961); Jimmy Carter (1981); Ronald Reagan (1989); Bill Clinton (2001); George W. Bush (2009); and Barack H. Obama (2017) — provide a revealing look at our country's leaders, their view of their legacies, and their visions for the future.
Applewood Books will also publish an updated edition of Inaugural Addresses of the Presidents of the United States, Volume II, which will be available on January 21. The 29 speeches collected here will begin with Theodore Roosevelt's 1905 speech and end with Donald J. Trump's 2017 inaugural address. Also available is Inaugural Addresses of the Presidents of the United States, Volume I, which includes 29 speeches from George Washington in 1789 to William McKinley in 1901.
Applewood Books was founded in 1976. The company's mission is to provide high-quality, American-manufactured books that help tell the stories of America—its places, its people, and its history. Since Applewood's founding, the company has published over 5,000 titles, including such bestsellers as the Original Nancy Drew Mystery Stories, Rudolph the Red-Nosed Reindeer, George Washington's Rules of Civility and Decent Behaviour, and standard editions of the Constitution of the United States of America, and The Declaration of Independence.
Farewell Addresses of the Presidents of the United States
Publication Date: January 11, 2017
Softcover • 5.5" X 8.5" • 88 pages • $12.95
ISBN: 978-1-4290-9443-6
Inaugural Addresses of the Presidents of the United States, Vol. I
George Washington (1789) to William McKinley (1901)
Available
Softcover • 5.5" X 8.5" • 204 pages • $14.95
ISBN: 978-1-4290-9326-2
Inaugural Addresses of the Presidents of the United States, Vol. II
Theodore Roosevelt (1905) to Donald Trump (2017)
Publication Date: January 21, 2017
Softcover • 5.5" X 8.5" • 178 pages • $14.95
ISBN: 978-1-4290-9425-2