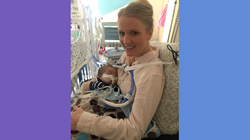 "Anything we can do to lessen the anxiety of parents, to reassure them, is a step in the right direction."
St. Louis, Missouri (PRWEB) January 12, 2017
St. Louis Children's Hospital is among the first St. Louis-area hospitals to use EASE (Electronic Access to Surgical Events), a new HIPPA-compliant secure texting service that allows clinical staff to communicate patient updates to families from the operating room.
EASE mimics texting apps most people use every day and offers patient families to open a window into the operating room with texts, photos and videos sent directly from surgical staff in real time. Families receive short updates approximately every 30 minutes.
The app provides a simple but powerful one-way communication tool for families, enhancing transparency and improving the doctor-patient relationship. It has proven to reduce anxiety and impact the overall process.
"Until now, the operating room was somewhat of a black box to patient families," said Dr. Pirooz Eghtesady, MD, cardiothoracic surgeon-in-chief, The Heart Center at St. Louis Children's Hospital and Washington University School of Medicine. "Anything we can do to lessen the anxiety of parents, to reassure them, is a step in the right direction."
First piloted in The Heart Center, EASE's use is expanding to more areas of St. Louis Children's Hospital for greater patient satisfaction.
A recently completed study of over 2000 families who had experienced EASE found that 98% said receiving updates during their loved one's medical procedure reduced their anxiety, while 80% of the respondents said that the availability of the app would influence their choice of hospital in the future.