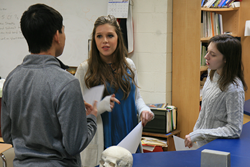 I hope that these students learned to walk in someone else's shoes today
Lexington, MA (PRWEB) January 12, 2017
On Tuesday, December 20th, Lexington Christian Academy students were visited by Dr. Alex Cist, a physician ethicist at Massachusetts General Hospital and faculty member of Harvard Medical School's Center for Bioethics. Dr. Cist was welcomed by Ms. Irene Campbell's Anatomy and Physiology classes, and shared the expertise in medical ethics consultation that she has amassed in a career spanning over 30 years.
Dr. Cist, also an LCA parent (Natalie '19, Katie '21), spent two full class periods with Ms. Campbell's students, introducing role-playing scenarios and provoking insightful comments and discussions between the high schoolers. In these scenarios, Cist assigned students to take turns playing the parts of doctors, nurses, ethics consultants, patients and patients' families. When Dr. Cist introduced varying ethical situations, the students learned to think and speak from the varying perspectives of those involved in some of the more complicated ethical issues in the world of medicine.
In one instance, students played roles related to a case in which a family urged doctors to use extraordinary measures to keep a patient alive, when this patient had explicitly wished against such action before slipping into a coma. In another situation, members of Ms. Campbell's class debated whether a doctor should be allowed to conduct blood transfusions on a patient whose religious views forbid it. Both issues brought forth lively debate between the representatives.
Throughout the role-playing scenarios that played out in the classroom, Ms. Campbell hoped that her students would further their understanding of the many perspectives and obligations of those involved in medicine. "I wanted to stretch my students," said Campbell. "I wanted them to think critically, to learn to make decisions and respect decisions based on moral and ethical principles, and to be challenged in that way."
Dr. Cist was pleased with the conduct and responsiveness of the LCA students. From the exercises she introduced, Cist gave a small sampling of the lessons she has instilled in countless graduates of the Harvard School of Medicine during her tenure there, as well as some authentic glimpses of the ethical dilemmas that she and her peers face at Massachusetts General Hospital. "I hope that these students learned to walk in someone else's shoes today," said Cist. "Through this exercise, my goal was to express the importance of understanding, empathy and advocacy." Cist made it clear to Ms. Campbell's class that even in the scientific field of medicine, the best solution to an issue can often be a subject of debate.
Lexington Christian Academy is an independent college preparatory school that exists to educate young men and women in the arts and sciences in the context of a complete commitment to the gospel of Jesus Christ.