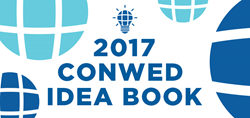 Minneapolis, Minnesota (PRWEB) January 10, 2017
Conwed, the leading plastic netting manufacturer in the world, launched its new 2017 IDEA Book, a digital step-by-step guide that outlines the company's manufacturing capabilities, core products and technologies. This new version includes a comprehensive description of how netting is manufactured, an introduction to the company's netting lingo and the netting characteristics that impact performance in the final product or application.
Conwed manufactures extruded, oriented, knitted and multilayer netting for diverse industries. From automotive, filtration, medical, hygiene and disposable products to agriculture, apparel, packaging, and building and construction applications, plastic netting helps improve product performance and functionality. "Conwed netting is an extremely versatile material. Our customers usually play in different and very dissimilar industries, so we pride ourselves on collaborating and customizing each netting design to meet their desired performance targets," said Ivan Soltero, senior strategic marketing manager at Conwed. "The IDEA Book is an ideal medium to showcase and share what we do and how it can impact our customers' products."
The 2017 IDEA Book includes the first public manual that explains how plastic netting is made, how it can be customized and how it can be incorporated with other substrates through diverse lamination and bonding processes to create superior composites. What started as a manual of plastic netting effort for internal training a few years ago, became the go-to source for learning the foundations of plastic netting. "A key factor to our product development success — when collaborating with prospects and customers — is that we are not shy to share our netting lingo. We don't assume our audience knows it all about our netting capabilities," said Soltero.
Manufacturers, OEMs and converters can create netting composites through extrusion coating, extrusion lamination, thermal lamination, ultrasonic welding, wet and dry adhesive lamination and diverse nonwoven processes. In many cases, incorporating netting helps reduce cost, weight, height, thickness and overall size of products and save energy, material, and production process time. "We consider ourselves a solutions-focused team. Customers bring a product development challenge and we do not rest until we find a netting configuration that can help solve it. So, before you assume it can't be done, challenge us," said Soltero.
To know more about Conwed and its new 2017 IDEA Book, visit http://www.conwedplasticsideabook.com
About CONWED
Conwed is the leading plastic netting manufacturer in the world. Conwed manufactures extruded, oriented, knitted and multilayer netting with unique customization capabilities. Headquartered in Minneapolis, Minnesota, Conwed has five manufacturing locations on two continents and a global distribution network.