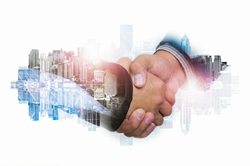 ...one of the elements most important to us is how the legal evidence of the signature is contained within the signed document itself
CHATTANOOGA, TN (PRWEB) January 12, 2017
SIGNiX, the leading provider of cloud-based Independent E-Signature™ solutions, announced today that Money Concepts, an independent broker-dealer and network of investment advisors, has renewed its e-signature contract with SIGNiX after completing a thorough analysis of SIGNiX's competitors.
Money Concepts initially entered into a two-year partnership agreement with SIGNiX in 2014, allowing 60 of the firm's investment advisors to pilot the technology with their customers. The abundance of positive feedback the firm received from its advisors warranted a new, four-year contract for 600 advisors nationwide.
"SIGNiX has many superiorities compared to its competitors, but one of the elements most important to us is how the legal evidence of the signature is contained within the signed document itself," said Mario Monteiro, senior vice president and chief operations and information officer at Money Concepts. "When we began our research, nearly all e-signature providers said that they, too, could do what SIGNiX could do. But once we asked more questions, we realized some providers could only provide a certificate that verified the document's validity, which was separate from the signed document. This would make us dependent on the provider to prove a document's authenticity, and we'd need to keep track of more than one document—the signed document and the certificate—which defeats the purpose of having a streamlined, e-signature solution."
The continued partnership will allow Money Concepts' investment advisors to conveniently and securely send documents and transaction contracts to clients for review or for signature. SIGNiX's solution deploys the highest levels of identity authentication and encryption, comprehensive audit trails and tamper-evident technology to assure the safety and security of e-signatures and e-signed documents.
In addition, SIGNiX's Independent E-Signatures™ adhere to international, published standards, so the e-signed documents are valid forever. And because legal evidence of the signature is permanently embedded into the signed document using digital signatures, there's no need to rely on SIGNiX to prove the validity of a signature. Users can verify e-signatures through any free PDF viewer, even without an Internet connection.
"As CIO, my job is to take proactive measures to ensure we protect ourselves," said Monteiro. "SIGNiX had superior security and legal evidence, and because financial services is such a highly regulated industry and our customers rely on us to keep transactions secure, it was essential that we selected a trusted e-signature solution."
"At SIGNiX, we understand that each industry has its own regulatory requirements, and we take pride in knowing that our customers—regardless of their field—are protected with our technology," said Jay Jumper, CEO of SIGNiX. "We're always pleased to know that a client shopped the e-signature market, but still chose SIGNiX again. We look forward to our continued partnership with Money Concepts."
###
About SIGNiX: 
SIGNiX, the most trusted name in Independent E-Signatures™, makes signing documents online safe and secure with comprehensive legal evidence permanently embedded in each document to eliminate any dependence upon SIGNiX. The company's cloud-based service uses patented technology to give businesses and organizations the most secure and legally defensible e-signatures available at a fraction of the cost of wet ink signatures. SIGNiX's products help the world's leading companies become more efficient, decrease risk and boost profits. For more information, visit http://www.signix.com.
About Money Concepts:
Founded in 1979, Money Concepts originated to provide financial professionals with a client centric "holistic approach" to wealth management by providing thousands of nonproprietary independent financial products and services. Free to focus on what's best for the Client, the Client's success has translated into the success of our representatives and ultimately the excellent and sustained growth of our company. For more information, visit http://www.moneyconcepts.com.
###