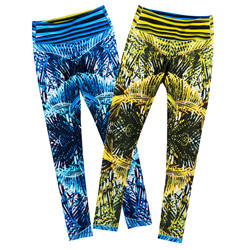 Agile manufacturing places an extremely strong focus on rapid response to the customer – turning speed and agility into a key competitive advantage.
Los Angeles, California (PRWEB) January 17, 2017
In the crowded Ath-leisure market, it is essential to have a point of difference. Eden Activewear is a stand-out company for several differences from other mainstream brands.
Firstly, in the manufacturing itself. Eden are exclusively online and only manufacture on demand, this is called 'Agile' manufacturing - http://www.leanproduction.com/agile-manufacturing.html. It allows them to have a far bigger selection of designs, produce more collections per year and adjust their offering to trends in real time. Conventional manufacturing means that most brands follow the same trends and this results in very similar designs. A further advantage to this individuality are the prints themselves, which are all produced from the commissioned photography of Jennifer Cawley. Her vibrant and recognizable style of floral images make for crowd stopping designs.
The second principle difference offered by Eden are their revolutionary reversible products, currently without any competition. They are very proud to now offer reversible Leggings and a reversible Form Short. These products provide two completely different prints for little more than a single sided product - often meaning that one side may be 'wilder' than the other. The other notable difference with these fully reversible fabrics, is that they offer increased support and compression.
Eden Activewear also offers a custom program offering private label branding in combination with their distinctive prints.