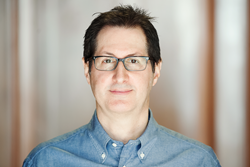 "I'm excited to join Quigley-Simpson and be part of their continued success," said Cohen.
Los Angeles, CA (PRWEB) January 11, 2017
Marketing expert and agency leader Alan Cohen has been appointed by Quigley-Simpson as the agency's new president and chief executive officer. Cohen was most recently co-founder of the strategy and marketing innovation agency Giant Spoon, and served as CEO of OMD USA prior to that. Cohen will oversee all creative, planning and media operations for Quigley-Simpson and will be based out of the agency's New York office.
"As Quigley-Simpson continues to grow and expand, we needed to find a visionary leader and seasoned strategist who could take our growth to the next level," said Gerald Bagg, who along with Renee Hill Young serves as a co-chairman of the agency, which has offices in Los Angeles and New York and had more than $500 million in annual billings last year. "With Alan's extensive background across all media platforms and a long track record of business development success, we knew we found the right person."
Recognizing the growing need for more strategic digital, content and technology integration, in 2013 Cohen co-founded Giant Spoon, an idea-centric marketing agency focused on strategy and innovation across all platforms. In just three years, Cohen helped build a roster of 20 blue-chip clients, including HP, GE, NBC and Amazon, as well as a staff of 40 people located in NY and LA. While there, the agency won five Cannes Lions as well as MediaPost's Creative Agency of the Year two years in a row, and Cohen received the OMMA All Star honor.
"I'm excited to join Quigley-Simpson and be a part of their continued success. I look forward to increasing integration between creative and media and to building the client portfolio," said Cohen.
Cohen previously served as CEO of OMD USA, where he brought fresh perspectives on strategy, analytics, digital and innovation. Earning the distinction as the longest-serving CEO of a U.S. media agency at the time, at OMD he oversaw the launch of many new service offerings, including the industry-lauded Ignition Factory (creative media), Airwave (mobile), OMD Word (social) and the Content Collective. During his nearly six-year tenure at the agency, he was also credited with helping it achieve record-breaking growth, adding more than 30 new accounts and almost 500 employees.
While at OMD, Cohen and his teams were also widely recognized for their accomplishments, winning agency of the year six times from the two leading advertising publications. In 2010, he was named "Media Maven," "Media All Star" and one of the top 10 media executives in the Mediaweek 50.
Prior to OMD, Cohen was president of West Coast and Worldwide Innovation at Interpublic Group's Initiative. In this capacity, he built and managed the largest office of Initiative's operations, as well as its entertainment division in New York and Worldwide Innovations offering. He repositioned the agency, expanded its services to clients, and was fundamental in several high-profile new client wins for the U.S. offices and their subsequent award-winning campaigns.
Cohen's earlier career included positions with NBC, ABC and Fox, where he served in a range of marketing, management, digital and innovation roles. While at NBC and ABC, he also won several awards, including an Emmy for his work on an anti-drug campaign.
A summa cum laude graduate of Boston University, Cohen also earned an MBA from the Harvard Business School.
Established in 2002, Quigley-Simpson is a full-service, integrated advertising agency and the pioneer of Brand Response Advertising. A strategy, creative, media, digital and analytics powerhouse, Quigley-Simpson is dedicated to driving ROI and delivering results through creative executions and accountable advertising that is constantly measured, analyzed and optimized. Quigley-Simpson employs a team of more than 150 industry professionals. Quigley-Simpson's client roster includes industry leaders and household names in financial services, consumer products, utilities and the Internet.
For more information regarding Quigley-Simpson, visit the company's website at http://www.quigleysimpson.com.