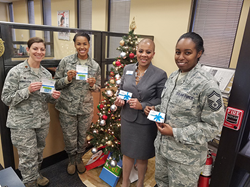 Suitland, Maryland (PRWEB) January 11, 2017
Andrews Federal Credit Union sponsored the 459th Air Refueling Wing (ARW) Deployed Service member Holiday Appreciation/Welcome Home event.
Upon their return, Airmen were welcomed back with a gift package and a $25 gift card from Andrews Federal. This year, the Credit Union provided the 459th ARW returning deployed airmen with 86 gift cards, for a total of $2,150.
"We are always proud to support our troops in every way possible," said Andrew Federal's Rosalind Bishop, DC/MD/VA Regional Manager. "The gift cards are a token of our appreciation for all that they do for us year round."
About the 459th Air Refueling Wing
The mission of the 459th Air Refueling Wing is to recruit, train, equip, challenge, mentor and reward the men and women of the unit to be AFRC's #1 Wing to provide safe, sustained, outstanding service to ourselves, our communities and nation.
About Andrews Federal Credit Union
Andrews Federal Credit Union was founded in 1948 to serve the needs of military and civilian personnel by providing a vast array of financial products and services. With over $1.3 billion in assets, Andrews Federal has grown to serve more than 119,000 members in the District of Columbia, Joint Base Andrews (MD), Springfield, Virginia (VA), Joint Base McGuire-Dix-Lakehurst (NJ), and military installations in central Germany, Belgium, and the Netherlands. In addition, the Credit Union serves as a financial partner with many select employee groups in Maryland, the District of Columbia, Virginia and New Jersey.
To learn more about Andrews Federal Credit Union and its community involvement, or to become a member, call 800.487.5500 or visit http://www.andrewsfcu.org.