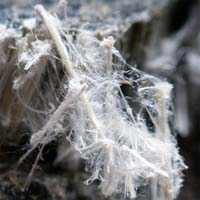 Asbestos fibers can reach the gallbladders of patients with malignant pleural mesothelioma.
Raleigh, NC (PRWEB) January 12, 2017
Researchers with SS. Antonio e Biagio e Cesare Arrigo in Alessandria, Italy used electron microscopy to discover asbestos fibers in the gallbladders of some of their patients with malignant pleural mesothelioma. Surviving Mesothelioma has just posted an article on the new research. Click here to read it now.
According to their new report in the Journal of Microscopy, the Italian team examined thin slices of gallbladder with an electron microscope and energy dispersive spectroscopy to reveal two kind of asbestos fibers in the tissue.
"Fibres of chrysotile and crocidolite, minerals regulated as asbestos, were identified," writes lead author Federica Grosso. "These findings confirm that asbestos fibers can reach the gallbladders of patients with malignant pleural mesothelioma."
Asbestos fibers, which embed themselves in tissue and cause chronic inflammation, are the primary cause of malignant mesothelioma worldwide.
"We know that asbestos causes mesothelioma, lung cancer, and other pleural conditions. But this study suggests that it could be even more destructive than we currently realize to other organs and systems, as well," says Alex Strauss, Managing Editor of Surviving Mesothelioma.
To read more about the Italian gallbladder study and the role of asbestos in mesothelioma, see Asbestos Found in the Gallbladders of Pleural Mesothelioma Patients, now available on the Surviving Mesothelioma website.
Grosso, F, et al, "Asbestos fibres detected by scanning electron microscopy in the galssbladder of patients with malignant pleural mesothelioma", January 9, 2017, Journal of Microscopy, Epub ahead of print, https://www.ncbi.nlm.nih.gov/pubmed/28066892
For nearly ten years, Surviving Mesothelioma has brought readers the most important and ground-breaking news on the causes, diagnosis and treatment of mesothelioma. All Surviving Mesothelioma news is gathered and reported directly from the peer-reviewed medical literature. Written for patients and their loved ones, Surviving Mesothelioma news helps families make more informed decisions.