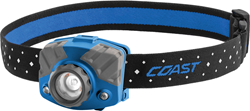 For practically every situation, when relying on clear and exactly the right light is vital, the FL75R meets the challenge.
Portland, OR (PRWEB) January 12, 2017
COAST Products continues to add to the company's impressive headlamp line with the introduction of the all-new FL75R headlamp. With up to 530 lumens, the FL75R ignites new technological breakthroughs – and it is also rechargeable. It provides the ultimate reliability in a hands-free lighting experience and should become the go-to headlamp for every law enforcement officer, emergency responder, tactical unit or outdoorsperson. Notably comfortable and lightweight at just over 3 ounces, the FL75R also features focusing, white or red beams, COAST's industry-leading optical technology and a compact size. Conveniently, the batteries can be charged inside or outside of the headlamp, and it also works with alkaline batteries.
Get an up-close view of COAST's new FL75R headlamp and the company's full array of LED flashlights, headlamps, lanterns, knives and multi-tools during the Shooting, Hunting and Outdoor Tradeshow (SHOT) from January 17 – 20 at Booth 15120 in Las Vegas, NV at the Sands Expo.
Battery Pack and Light All-in-One
Top of the line, the FL75R features COAST's innovative recharging capability and combines it with a series of headlamps that have batteries, light and controls all in the front. It is powerful, versatile, lightweight and easy-to-use – making night time patrols, hunting in low light situations or conducting rescue searches in remote areas less difficult. It shines crystal clear light exactly where needed.
The FL75R includes COAST's exclusive Flex Charge Dual Power Rechargeable System – and the Pro-Tek Charging Port. Removing a protective cover reveals a micro-USB port that the charging cable plugs into. There are no parts to lose, and the port stays clean from dust and debris. It's easy to match uniforms and the prevailing environment – or just your mood – because these headlamps are available in black, red, green, blue and orange.
For power, FL75R users can choose between the included top-quality lithium rechargeable battery pack or three standard AAA alkaline batteries. Notably, the lithium battery pack can be charged inside the headlamp, or outside. Use alkaline batteries while the battery pack recharges and have uninterrupted use of the light for any task, anytime and anywhere. There are high, medium and low output modes to choose between maximum brightness, exactly the light needed or to conserve battery life.
Powerful Multi-Use Functionality. Pure Beam Focusing with Dual-Color LED Headlamps
The FL75R and the entire FL headlamp line have heavy-duty, adjustable headbands that provide ultimate comfort. The straps are enhanced with reflective material for increased visibility and safety of the user. The oversized power switch lets you change settings with ease. The bezel is hinged to make focusing and beam positioning perfectly accurate, particularly for close-up tasks like making precise adjustments or settings, and for handling, removing and installing small parts. It has both red and white beams. The red light function on the FL75R is particularly useful at night or in low light situations. For example, when cooking at base camp, reading without disturbing animals, hiking in low light areas or responding to a night time emergency situation – the red beam helps prevent blinding yourself or creating annoying glare.
Offering an impressive 530 lumens of power, the FL75R also features COAST's patented Pure Beam Focusing Optic, which allows for seamless transition from a crystal-clear flood beam to a long distance Bulls-Eye Spot beam that lights up objects up to 511 feet (156 meters) away. The dual-color beams are operated by two separate switches, to change between pure beam white and red beam easily and accurately. This allows users to turn the red light on and off without cycling through the white light settings.
"COAST's new FL75R headlamp delivers exceptional recharging lighting technology for every tactical, emergency response or outdoor experience," remarked COAST President David Brands.
"For practically every situation," Brand continued, "when relying on clear and exactly the right light is vital, the FL75R meets the challenge. Its versatile and simple-to-use recharging capability blended with the headlamp's impressive power, beam clarity, run time and all-in-front controls make this the go-to headlamp for nearly any activity or project. The extremely valuable red light feature and COAST's powerful and proprietary flood or spot beam lighting – all tested to ANSI FL1 specifications – are the best you can buy, and are unique to this headlamp. For a variety of outdoor as well as indoor projects, this unbeatable light is essential for those who know, and trust, their tools."
Following are the specs, tested to ANSI FL1 Flashlight Standards. The FL75R can be powered by three AAA batteries or the lithium battery pack which is included.
With the Lithium Battery Pack

Lumens: 530 (High), 260 (Medium), 65 (Low)
Beam Distance: 511 feet/156 meters (High), 351 feet/107 meters (Medium), 177 feet/54 meters (Low)
Run Time: 2 hours, 15 min (High), 5 hours, 15 min (Medium), 11 hours (Low)
Dual-LED for red or white light
With 3 AAA Alkaline Batteries
480 (High), 245 (Medium), 65 (Low)
Beam Distance: 475 feet/145 meters (High), 347 feet/106 meters (Medium), 177 feet/54 meters (Low)
Run Time: 3 hours 15 min (High), 7 hours 30 min (Medium), 23 hours (Low)
Dual-LED for red or white light
All COAST LED headlamps also feature unbreakable LEDs and are impact and water resistant. They are backed by COAST's lifetime guarantee against defects in materials and workmanship.
The FL75R headlamp is available now with a suggested retail of $109.99. Follow COAST at one of the social media channels below, or check the COAST website, for the latest information.
COAST Products – A History of Innovation
COAST Products is a 98-year-old, family-owned company that produces lights, knives and multi-purpose tools for work, recreation and everyday use. COAST produces innovative, technologically advanced products, backed by a lifetime warranty, that make the user's life safer, easier and more enjoyable. Whether for hard work or hard play, COAST has the right lighting and cutting tools to get the job done. COAST products are available at leading sporting goods, automotive, hardware, and industrial dealers and distributors all over the world. For more information, call 800-426-5858 or visit http://www.coastportland.com.