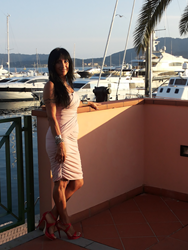 Staten Island, New York (PRWEB) January 11, 2017
New York based publishing company Boulevard has expanded into international markets by publishing Italian best selling authors, Iris Vignola and Horion Enky (Bizzi Claudio).
Iris Vignola was born in La Spezia, Italy where she lives still. Her forthcoming book is Nel Fantastico Mondo delle Fiabe (Into the Fantastic World of Fairy Tales) a book of twelve tales, published in two different editions, with new illustrations. The first, The veiled Princess was the theme of the first theatrical performance of the Academy of Dance "La Maison de la Danse" of La Spezia, Italy, founded and directed by her daughter Emmanuelle Ricco. Her books of Poetry are published in Italy, the first written together with the poet Horion Enky: Unico amore – Non sogno e non realtà – Dinanzi a me, c'è solo il mondo. She is currently writing the third text of the fantasy trilogy Dynasty of Light (La Stirpe di Luce).
Asaliah's choice (La scelta di Asaliah), the first, has been recently published by Boulevard Books in the Italian and English versions.
Horion Enky (Bizzi Claudio) was born in 1955, in the province of Rovigo, Italy, where he currently lives. To the world of literature and that of poetry he approached from a young age, although in those days his works had been closed in a drawer. His passion was awakened strongly over the past decade, leading him to write many poems, short stories and fairy tales, many of which were published in books even for charitable purposes, including Unico Amore, written in four hands with the author Iris Vignola, Il Paradiso può attendere and Frammenti di vita. Recently his science fiction book 17/07/2017 The Fall of the Gods has been published by Boulevard Books, Staten Island, N. Y.